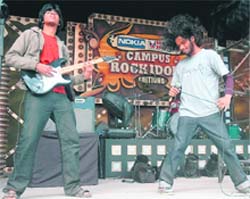 Neha Walia
The stage was set. The aspiring rock stars ready to fire from their guitar and drums to prove their supremacy in the battle. Every thing was in place for the auditions of Campus Rock Idols at Leisure Valley - a loud stage, the cult of metal worshippers and high-energy music. It was an opportunity that no city band could let go of, a chance to become the next big thing in the rock scene. So, we had 16 campus bands jamming it up for themselves and for the cheering headbangers.

Arbaaz Khan in a candid chat


Up, close and personal
Jigyasa Kapoor Chimra
Brother of the angry Khan, Salman, he is the calm and composed one (from his voice). Call him husband of sexy siren Malaika Arora Khan or an actor with credibility, Arbaaz Khan has the brainpower to twist and turn questions as per his desire, that too without sounding rude.

Food route
Have your pick from Hyderabadi cuisine to Peshwari food at Dum Biriyani and Mast Kebab Food Fest
Ashima Sehajpal
We love chilly winter. But the sole reason for it is the steaming delicacies we get to binge on to keep ourselves warm. So, when Moti Mahal Delux organised a Dum Biryani and Mast Kebab Food Festival, we jumped to it.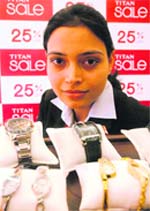 Titan announced a flat 25 per cent off on some of its collections on Friday.

Bon Appetit


Tried and tasted!
The microwave may not have revolutionised Indian cooking, but in a time-starved world, it has surely come as a blessing. Most Indian recipes can be adapted to the microwave, enhancing color, flavor, and of course health. Who says you can't cook up some delicious Indian food in a microwave? It's low-cal, clean and efficient.

Hues of India
Parbina Rashid
Demand for Indian art in the foreign market is not a new phenomenon. But when invitations from prestigious organisations come pouring in for our homegrown artists, we are re-assured. That means the demand continues. The latest one to get such an invitation is Bheem Malhotra, known for his water colours, from none other than Nehru Centre, London.

Brit bloodline?
Fed up with responding to queries about her family background, actor Preity Zinta has finally revealed her British connection.

Participants of Punjab International Film Festival- 2009 dress up as actors for the upcoming fest.



Red readinghood:

Oblivious to her surroundings, this girl remained immersed in her book at StuC. Lifestyle photo: Parvesh Chauhan