Man with the Golden Globe
The soul-stirring melodies of A.R. Rahman have won him international acclaim.
Nonika Singh writes about this musical genius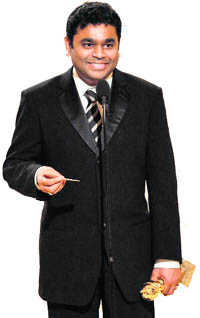 AT 25, when A.R. Rahman burst on the national scene with Roja, he was hailed as a prodigy. Today at 43, he is arguably India's best-known music composer and the most visible face of Indian music.
He is being acclaimed as a genius. Yes, by a grateful nation basking in the glory of the Golden Globe award that he has brought to his country for the first time in history. Only now it's not only a nation that is applauding but international community, too. Post-Golden Globe award that he got for Best Original Score in British director Danny Boyle's movie Slumdog Millionaire, the world is saying, "Now we all know A.R. Rahman – but we probably should have a long time ago."
Melodic genius
When director Danny quips, "He is a bit of a genius" what he means is — he is a genius. Yet another director Steve Plimlott had said earlier, "Rahman is a melodic genius, and I don't use the word 'genius' very often. In India, people say he's their Mozart, and it's sort of true." Actually, it was Time magazine that had conferred the title 'Mozart of Madras' upon him. For this is not the first time that Rahman has forayed into the international scene. His tryst with the world had begun much earlier. Rahman had scored for the Mandarian-language film Warriors of Heaven and Earth in 2003 after researching and utilising Chinese and Japanese classical music, and co-scored with Craig Armstrong in Shekhar Kapoor's Elizabeth: The Golden Age in 2007. That is not all. Rahman's compositions have been reused in scores both within India and in films abroad, making appearances in Inside Man. Lord of War and the Accidental Husband. He has also worked with Andrew Llyod Webber for the musical stage production Bombay Dreams. And mind you, all these were brilliant scores too.
String of awards
Awards are raining on Slumdog's energetic and edgy music like never before. Prior to the Golden Globe it fetched him the Los Angeles Film Critics Association for Best Music and Satellite Award given by the International Press Academy.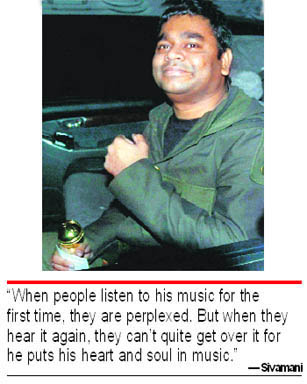 So what gives the music of Slumdog its cutting competitive edge? Irrfan Khan, the talented actor who has played a key role in Slumdog and is a self-confessed Rahman fan says, "It is very difficult to analyse or dissect the music after it has been successful. But the bottom line of all good music, especially Rahman's music, which emanates from 'work-is- worship' commitment is that here is a music that appealed to people's hearts." But the maestro himself calls his music "a mix of modern and traditional India, which is neither Indian nor about Indian culture". But melodies that transcend the frontiers of language, genres and styles have always defined Rahman's music. Western classical, Carnatic, reggae and rap all coalesce to create a music that is at once melodious, vibrant, everlasting and above all inimitably Rahmanic. Innovation, originality and versatility could well be his first names. That probably explains his vast repertoire, which is as varied as his music. From the album Vande Mataram released on the 50th anniversary of India's Independence to conducting the Birmingham Symphony Orchestra to writing music for the Lord of the Rings theatre production with Finnish folk music band Varttina, he has gone on to compose Raga's Dance for Vanessa – Mae's album Choreography.
Bollywood music, which Rahman has now placed firmly and squarely on the global map, has got a refreshing vigour and a universal appeal from him. Whether it is Shyam Benegal, Deepa Mehta, Ashutosh Gowarikar, Ram Gopal Varma or Subhash Ghai, he has worked with every noted film director in the industry. The composer, who got a foothold in the film industry through Mani Ratnam's movies Roja and Bombay, has made the line between commercial success and critical acclaim irrelevant.
Super seller
It, thus, is no surprise that his work sells like hot cakes. In terms of sales Rahman is deemed a titanic juggernaut. Reports put his music sales at over 200 million records, which is more than the sales figures of Madonna and Britney Spears put together. According to Interscope records, his sales place him among the top 25 highest selling recording artistes of all times. In a list compiled by Wikipedia, he is placed among the top 10, right up there with AC/DC and Led Zeppelin, and higher than legends like David Bowie or Frank Sinatra. Yet when he comes together with British-born with Tamil connection M. I. A. Mathangi "Maya" Arulpragasam, a 32-year-old sensation in Slumdog, to create 'O Saaya', he remarks in his ever self-evasive manner, "She is very young, very futurist. With her, my music acquired the necessary feel. She was definitely an inspiration."
Of course, not all of Rahman's music is superlative. But blame that on the dictates of a box office-driven cinema, not on the man who is a perfectionist. Childhood friend and lead percussionist Sivamani, who was part of his band, Roots, way back says, "When people listen to his music for the first time, they are perplexed. But when they hear it again, they can't quite get over it for he puts his heart and soul in music." No wonder, Australian director Baz Luhrmann notes, "I had come to the music of A.R. Rahman through the emotional and haunting score of Bombay and the wit and celebration of Lagaan. But the more of AR's music I encountered, the more I was to be amazed at the sheer diversity of styles — from swinging brass bands to triumphant anthems — from joyous pop to West End musicals. Whatever the style, Rahman's music always possesses a profound sense of humanity and spirit — qualities that inspire me the most".
Notes of divinity
Sivamani, who is justifiably proud of being a part of Rahman's team and of having known him for the past 32 years, reveals that for Rahman no particular project is special or above others. "To all of his music he enthuses his deft touch." Come to think of it the 'Jai ho' score in Slumdog was initially composed for a Hindi film. Only the 'showman' producer director didn't quite like it. Thus Bollywood's loss became Hollywood's gain and a glorious moment of pride for India. Sivamani adds, "He touches notes with divinity."
Indeed, Rahman has confessed to spiritual influence, Sufi, too. Stories about how he creates music in midst of light of candles and scent of burning joss-sticks abound. It is believed that the moment he landed back home in Chennai after winning the award, he took off for a pilgrimage.
Rahman has had his share of controversies, too. Accused of being fanatically religious, the charges have ranged from swamping lyrics with his hi-tech music to being aloof . And the one that has often stuck is repetitiveness. Yet the man who is irritated by mediocrity has set up his KM Music Conservatory to train aspiring musicians in vocal, instrumental, music technology and sound design, is seen by insiders as very much humane. His media-shy nature, humility, honesty, sincerity and integrity remain his most endearing qualities.
Bigger goals
Now with the Oscars on the horizon, pundits are positive that Rahman will get that also. So, do we anticipate a new Rahman in the making? Well, one thing will always remain the same. Sounds will always fascinate Rahman and his search for fresh sounds shall continue to enthral listeners with still newer compositions.
However, with world as his oyster, listeners across the world will be swaying and swinging to his music. For most certainly this isn't the last time the world has woken up and taken notice of Rahman. Shekhar Kapur's mega project Paani and an English-language martial arts film 19 Steps, which is co-produced by Walt Disney, will be embellished with Rahman's lilting score.