M A I N N E W S
Manmohan recuperating well
Chose AIIMS for his trust in doctors' competency
Aditi Tandon
Tribune News Service
New Delhi, January 25
Prime Minister Manmohan Singh is recovering "exceptionally" well after his 11-hour heart bypass surgery at AIIMS yesterday and is eager to get back to work. The night after the surgery passed off uneventfully, and the PM was put off the ventilator at 1 am today.
Singh is now breathing on his own and even spoke to doctors from his bed in the morning. "I chose AIIMS for my surgery because I am fully convinced of the competence of our doctors. I want to encourage people to come and seek medical facilities here. I hope my faith in the institute will inspire others, and that the ordinary patients will get the same treatment here as I got," the PM said.
The Prime Minister had liquid diet, including water and fruit juices, in the morning, as he kept expressing his wish to get back to work. "The eagerness to return to work is the Prime Minister's most frequently-expressed wish. He is making quick progress," Singh's personal physician Dr K Srinath Reddy said today.
Singh's progress is, in fact, better than anticipated, with medical experts saying he was responding "excellently" on all the parameters, including blood pressure and continuous cardiac output. His heart was functioning well and the ECG was normal, said chief cardiothoracic surgeon Dr Ramakanta Panda, adding the PM would not have to stay in AIIMS too long.
Five days is the time doctors think he would have to remain admitted, after which the treatment would continue at his residence. "We have given him medication to reduce pain and physiotherapy to relax his muscles and help his legs move," Panda said when asked if the PM had any pain post five bypasses.
With no setbacks at all, doctors said they would mobilise Singh from bed tomorrow. "We are hoping to remove most monitoring lines within next 24 hours. We will mobilise the Prime Minister from bed tomorrow. We hope his progress will be speedy enough for an early discharge," Dr Reddy said.
The head of cardiothoracic surgery at AIIMS, Dr A Sampath Kumar, who was part of the operating team, meanwhile, referred to the PM's fighting spirit throughout the medical intervention yesterday and said Singh would be in a position to resume duties within four weeks. "But he would take six weeks to be fully fit."
"He is already wide awake and talking. He was up in his ICU bed at 8.30 am today to give his message to the people and thank the doctors," Dr Kumar said. The doctors, for their part, were up all night to monitor the PM's condition. They will observe him closely for another 24 hours.
Meanwhile, no discharge date was given out today and the doctors said it would depend on the PM.
Was 'Team India' effort: Dr Panda
The choice of Dr Ramakanta Panda of Mumbai's Asian Heart Institute for leading the surgery on Manmohan Singh had raised questions but he and doctors at the AIIMS today put up a united face, saying it was a 'Team India' effort for the Prime Minister. "An ordinary patient has a choice to go anywhere. But for the Prime Minister we have to find best talent, best expertise and experience in this country to treat exactly what he needs. That is what we have done. We have brought a team of Indians," Dr Panda said. — PTI
PM's surgery big boost to medical tourism
Prabhjot Singh
Tribune News Service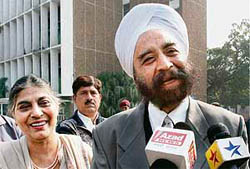 Prime Minister's cousin Amarjeet Singh Kohli along with his wife outside AIIMS in New Delhi on Sunday. — PTI
Chandigarh, January 25
Successful beating-heart surgery performed on Prime Minister Manmohan Singh by doctors of the All-India Institute of Medical Sciences (AIIMS), New Delhi, yesterday will act as a catalyst for promoting medical tourism in India.
Unlike the political leaders and top bureaucrats, who go to the West for coronary bypass surgeries costing 10 or 15 times more than charges on such surgeries in India, the Prime Minister has set an example by reposing faith in the "competency of advanced Indian medical care to deliver first world treatment at the third world prices."
There has been a long and unending list of top politicians, bureaucrats and CEOs who have been doling out huge amounts of precious foreign exchange to undergo coronary artery bypass or coronary artery bypass graft (CABG) surgery abroad. Coronary artery surgeries are performed with either the heart stopped necessitating the usage of cardiopulmonary bypass or with the techniques available to perform CABG on a beating heart, popularly called "off-pump" surgery, the one performed on the Prime Minister.
It was in the beginning of 2001 that the off-pump surgery was introduced in India by a couple of special heart care or cardio-vascular care specialist hospitals.
According to a study by the McKinsey and the Confederation of Indian Industry conducted some years ago, medical tourism business is expected to touch $ 1 billion by 2012. The recent financial meltdown worldwide may make it quicker, say experts, holding that "the cost of surgery has been a major selling point in favour of India that offers not only cardio-vascular surgeons trained in the West, both in the US and the UK, but also get world class lodging facilities.
Escorts, Apollo, Fortis, Asia Heart Institute and Batras, for example, are some of the eminent chains of hospitals who have on their rolls world-class cardio-vascular surgeons supported by cardio-thoracic anaesthesiologists and other supporting paramedical staff.
Though the private sector is more advanced in cardio-vascular surgeries, some of the hospitals in the government or public sector, including AIIMS and the Postgraduate Institute of Medical Education and Research (PGI), initiated the cardio-vascular care in early '70s. Since then the techniques, success rate and after-surgery care have undergone a revolutionary change.
Unfortunately, the public sector premier institutions like AIIMS and the PGI have not been able to hold back their super specialists, especially cardiologists and cardio-vascular surgeons who got lured by private sectors' attractive packages.
The success rate of such surgeries performed in India is, if not better, than at least they are comparable to the best in the West or anywhere in the world. Price line is the additional advantage for those choosing India for their treatment.
And ever since the introduction of beating-heart surgery, the cost of surgery has further come down. Cost cutting is primarily attributed to the shorter use of Intensive Care Unit as well as hospital stay, fewer blood products required and significant lower -operative costs. The lower costs can also be attributed to shorter hospitalisation, cheaper post-operative care and material requirements for the surgery.