Let's unite
Message from the youth brigade—stop the blame game and work collectively towards peace and harmony
Don't you feel Constitution, Republic, Sovereignty are too intense a terminology to reflect the character of a nation? Just to guarantee us the lightest of feelings let's use the term 'freedom'. On January 26, 1950, we had the legendary tryst with destiny.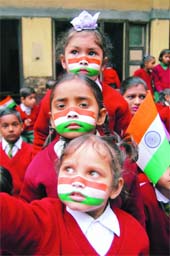 Power to all…
…But then, are we using our rights?
Let's question ourselves today. Do we ever bother how many times in a day we exercise our Constitutional powers? How often our Fundamental Rights are infringed upon? Have we ever realised after enjoying our rights, we need to fulfill our Fundamental Duties as they are meant to be? On the 60th Republic day, we decide not to criticise the system but pledge to introspect. To inspire you to do the same, we ask some city-based personalities the same set of questions. And this is what they say:.
Lucky by chance
It will be interesting to see the talented Farhan Akhtar's sister Zoya Akhtar directorial debut movie Luck By Chance, set to release on January 30. Born in 1972 to renowned script and lyricist Javed Akhtar and Honey Irani, films have always been home to Zoya. Having assisted the brother Farhan for Dil Chahta Hai, Lakshya, she went on to produce Honey Moon Travels Private Limited. In a conversation, Zoya Akhtar talks about her movie Luck By Chance, which is a contemporary tale set in a world desperate to escape its own reality.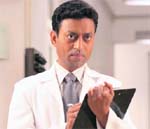 Who's afraid of reality?
Oscar-nominated film Slumdog Millionaire has been criticised for selling Mumbai's misery to the West, but actor Irrfan Khan says the filth and poverty shown in the movie by British filmmaker Danny Boyle are nothing but the reality."It's the reality. Why should it be swept under the carpet? Why should Danny Boyle have been concerned about what image of Mumbai goes out when we've done nothing to keep our own city morally and physically clean?

Computer? Please help!
Brad Pitt has confessed that he doesn't know how to operate a computer. When asked during Newsweek's 13th annual Oscar Roundtable if he's ever "googled" himself, the 45-year-old Oscar nominee replied, "Dear God. No. Never. First of all, I don't really know how to operate a computer." The hunky actor said that he is glad he isn't trying to launch his career these days, reports a magazine. "I feel for the people who are just getting into the business. It sets the wrong focus," he said.
Way to broadway
Hollywood actress Sienna Miller is set to make her Broadway debut this fall, according to her representative. The 27-year-old actress will play the role of Miss Julie, one of only three roles in After Miss Julie, which will be staged beginning in September. It will open up at the Roundabout Theatre's American Airlines Theatre on New York's famed 42nd Street, reports People.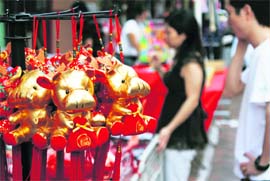 Welcome the Ox
The Chinese community celebrates their New Year as we march into the 60th Republic Day
Happy Republic Day and a very Happy New Year to you all. Wondering what? Yes, it's the beginning of another year and as we all don't know it's the Chinese New Year; that falls today—on January 26. Though the date varies every year, courtesy the moon, Chinese people calculate the date according to the lunar and solar movement and some astrological calculation.
America's sweetheart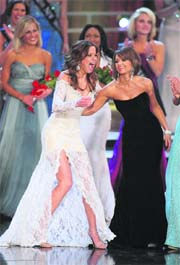 Miss Indiana Katie R. Stam (L) is congratulated by Miss California Jackie Geist as she is named Miss America 2009 during the Miss America Pageant at the Planet Hollywood Resort & Casino in Las Vegas, Nevada January 24. Photo: Reuters
Mini treat
If you are an ardent lover of the rich traditional art forms of India, then Kalagram is the place to check out. Known as an artists' hub and the ethnic feel, it has gathering of artists from Bihar, Rajasthan, Madhya Pradesh and Punjab, who are busy putting their creativity along with their skill on canvas. The ongoing folk painting and miniature art workshop is a precursor to the preparations for the upcoming national-level folk dance festival planned by the North Zone Cultural Centre and Ministry of Cultural Affairs.
Lounge it
Now, even Mohali can boast of a multi-cuisine restaurant and bar, which caters to all tastes. Imperial Hotel in Phase-1 S.A.S Nagar, promises to be the first choice choice for those travelling to Mohali in terms of an innovative product, quality of customer service, friendly and well-informed staff and above all value for money. It will cater to the requirements of business travellers, corporate clients, discerning family clientele as well as local businesses and the local populace. 
BODY wise
Core solution
Most people equate 'core' with abs and when they think of training the core, they usually think of doing crunches. While crunches are a great way to strengthen your abdominal muscles, they are only a small part of the equation. Most of your core muscles lie deep within your torso.