Health Notes
You may catch obesity bug from other people's sneezes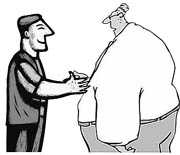 London: You may find it a bit surprising, but an Indian-origin researcher in the US has revealed other people's coughs, sneezes and dirty hands can infect you with an obesity bug.
Professor Nikhil Dhurandhar, of Pennington Biomedical Research Centre in Louisiana, believes that an airborne "adenovirus" germ may be causing the fat plague that is blighting Britain and other countries.
He reckons that about one in three obese people might have become overweight after falling victim to the highly infectious cold-like virus, known as AD-36.
The researcher says that the virus —which is known to cause coughs, sore throats, diarrhoea and conjunctivitis—has of late been found to make fat cells multiply, leading to weight gain. — ANI
Protective facemasks can defend against flu pandemic
London: Respiratory infections like flu can be guarded against if people use protective facemasks, according to a study led by British and Aussie scientists.
In their study report, the researchers also say that protective facemasks can even be helpful in defending against a pandemic.
Researchers at Imperial College, London, and the University of New South Wales, however, have also found that persuading people to wear a mask and to fit it properly is a difficult task, which could limit their effectiveness.
In a clinical trial of the effectiveness of masks, the researchers studied 280 adults from 143 families living in Sydney during the winter flu seasons of 2006 and 2007.
When a child in the household was ill with flu, the volunteers were asked either to wear a mask or not, on a random basis. The researchers observed that people who wore a mask while their children were sick were four times less likely to become infected by their sick children than non-wearers. — ANI
Men more likely to become alcoholics than women
London: A new study by a team of American researchers has revealed that men are twice as likely as women to become alcoholics.
The study, conducted by researchers at the University of California, San Diego, claims that men have a 20 per cent risk developing a drink problem in their lifetimes, and 10 per cent chance of becoming hooked.
According to the researchers, the seeds of abuse and dependence on alcohol often begin in the late or mid-20s. — ANI
New study aims to cut childhood leukaemia risk
Washington: A new study is being conducted at the University of Leicester to find out if consuming caffeine during pregnancy affects the unborn baby's risk of developing leukaemia in childhood.
According to lead author, Dr Marcus Cooke, the study is a unique opportunity to determine the sources of chromosomal alterations during pregnancy, with the ultimate aim of reducing the risk of childhood leukaemias.
Leukaemia is a cancer of the bone marrow and white blood cells. "We want to find out whether consuming caffeine could lead to the sort of DNA changes in the baby that are linked to the risk of leukaemia. This is an important area of research because it is vital that mothers are given the best advice possible," said Cooke. — ANI