Obituary
RV — A copybook President
Tribune News Service & PTI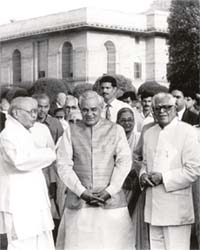 A file photo of former President R Venkataraman with former Prime Minister PV Narasimha Rao and the then Prime Minister Atal Bihari Vajpayee at Rashtrapati Bhawan in New Delhi on August 15, 1999. — PTI
New Delhi, January 27
The ever-smiling Ramaswami Venkataraman, India's eighth President, was perhaps the only statesman who worked closely with all the Prime Ministers, right from Jawaharlal Nehru to Manmohan Singh.
Fondly known as RV, the copy-book President with a clean image had the distinction of being a freedom fighter, minister in the state and at the Centre before being elected as the Vice-President in August 1984 and subsequently to the highest office in July 1987.
A deeply religious person, he had great interest in music, art and culture and had an abiding commitment to the country's development as a minister in the state and at the Centre, holding important portfolios such as industry, finance and defence.
He was closely associated with Nehru for 14 years and then with Lal Bahadur Shastri, Indira Gandhi, who made him Vice-President, and Rajiv Gandhi, who elevated him further. During his tenure at the Rashtrapati Bhavan (1987-1992), he had to deal with four Prime Ministers -- Rajiv Gandhi, V.P. Singh, Chandra Shekhar and P.V. Narasimha Rao. In 1980, when he became Finance Minister, he chose Manmohan Singh as his Finance Secretary. In 1991, he again had a role in Singh becoming the Finance Minister in the Rao government. He helped both Singh and Rao in ushering in economic reforms.
A lawyer by profession in his early days, he had doctoral degrees in law as well as social sciences. He enrolled himself at the Madras High Court in 1935 and subsequently in the Supreme Court. He had been a member of the Provisional Parliament (1950-52) of the Madras Legislative Council (1957-67), Member, Planning Commission (1967-71) and President of the United Nations Administrative Tribunal (1968-79). He was a Lok Sabha member during 1952-57, 1977-79 and 1980-84.
The trying times demanded RV's decisions on a gamut of tricky constitutional and political issues - Sri Lankan crisis, Bofors gun deal, assassination of Rajiv Gandhi, stocks scam and the Defamation Bill.
There were repeated controversies on the role of governors, the split and disqualification of members in Parliament even as debate surfaced from time to time on the discretionary powers of the President - several constitutional issues that have normally eluded answers.
In fact, these thorny subjects set the stage for his biography 'My Presidential Years', published after he relinquished office.
Born on December 4, 1910, in Thanjavur, Tamil Nadu, RV followed a regimented lifestyle that helped him remain healthy until a few days before the end came. He was living with his wife and three daughters after demitting the office of the President 16 years ago.
Despite his governmental and Constitutional responsibilities that kept him busy, he was actively associated with various music associations and the institutions of the Shankaracharyas.