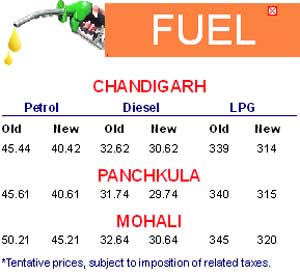 Relief To Resumed Properties
Standing counsel's request may spark fresh row
Chandigarh, January 28
The request of UT Senior Standing Counsel Anupam Gupta to summon the entire record of UT Adviser Pradip Mehra granting relief to the owners of the resumed properties is likely to spark off a fresh row.
Over 50 rape cases pending in courts
Chandigarh, January 28
While the orders in the 20-year-old German tourist rape case have been pronounced after four months of the crime, there are over 50 such case pending in the district courts in which orders are yet to be pronounced.
Zirakpur-Parwanoo bypass
HC for removing illegal structures within 15 days
Chandigarh, January 28
The Punjab and Haryana High Court wants illegal structures on the Zirakpur-Parwanoo Road to be removed within 15 days of issuance of notices. It has asked the authority concerned to issue 15-day notice to the landowners, and also to affix these at conspicuous places.
Senior Citizens Act
Despite harassment, records speak otherwise
Chandigarh January 28
It is said that statistics conceal more than they reveal. And this seems apt when it comes to assessing the plight of elderly parents and senior citizens vis-à-vis number of cases registered under the much publicised, albeit poorly implemented, the Maintenance and Welfare of Parents and Senior Citizens Act, 2007.
HUDA gets silver medal in e-governance
Chandigarh, January 28
Recognition for Haryana's potential and standing in e-governance has come by way of a silver medal for the initiatives of Haryana Urban Development Authority (HUDA) in connecting to the people.
Tax evasion: Three properties attached
Chandigarh, January 28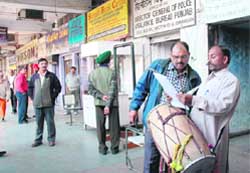 The Income Tax Department today attached three prime properties owned by a local businessman, Arun Goyal, in Sector 17 and 22, including the one housing the office of Punjab Vigilance Bureau.





Attachment orders being read out amid drumbeats at Sector 17, Chandigarh, on Wednesday. Tribune photo: Manoj Mahajan


Plan to make Tagore
Theatre centre of excellence
Chandigarh, January 28
The Chandigarh Administration has chalked out an ambitious plan to convert the recently-opened Tagore Theatre into a centre of excellence for art and culture.
Dadu Majra colony stinks
...as waste-disposal plant fails to start
Chandigarh, January 28
While the residents of Dadu Majra Colony and nearby areas continue to live under "stinking" conditions, thanks to the dumping ground situated right next to the colony, where the garbage of the entire city is dumped, the Municipal Corporation's much hyped project of solid waste disposal plant remains a non-starter.
PANCHKULA HEIST
Police dispatches five parties to nab accused
Panchkula, January 28
Claiming to have some vital clues in hand the Panchkula police has today dispatched five parties to different destinations in search of robbers who took away jewellery worth Rs 1.73 crore on a gunpoint from PC Jewellers in Sector 14 yesterday.



CCTV grabs of dacoity at a jewellery showroom in Panchkula on Tuesday.
Police understaffed, unprepared
Panchkula, January 28
Even though Panchkula remained a soft target of robbers and dacoit during the last one year, authorities have failed to take any step to improve the policing in the town as well as its infrastructure.
| | |
| --- | --- |
| The police post where cops have encroached upon public land by constructing a wall in the public passage in Sector 6, Panchkula; and (below) an empty beat box in Sector 7, Panchkula. Tribune photos: S. Chandan | |
Admn, ministry of labour sign MoU
Chandigarh, January 28
With a view to secure workers in the unorganised sector by providing health insurance cover, a memorandum of understanding (MoU) was signed today between the Chandigarh administration and the ministry of labour and employment, New Delhi.
AC taxis set to be cheaper
Chandigarh, January 28
Travel by AC taxis is set to be cheaper. With the government mulling a rollback in the oil prices, the administration has decided to reduce the current taxi rate of Rs 15 per km.
Saji Mohan's arrest likely to open Pandora's box
Chandigarh, January 28
The arrest of Saji Mohan, former Zonal Director of Narcotics Control Bureau (NCB), Chandigarh, in a drug trafficking case is likely to open a Pandora box as the wife of a Ludhiana resident today lodged a complaint with the NCB alleging that her husband was implicated in a case in 2007.
Draw for nursery sites held
Chandigarh, January 28
Draw of lots for allotment of nursery sites in the Garden Centre spreading over an area of 20 acres in Raipur Kalan was held in the estate office today.
Seminar on bone cement surgery
Chandigarh, January 28
There should be good collaboration among engineers, biomechanical scientists and orthoaedic surgeons who find new biological material and mortal implants, which have better strength and elasticity. This was stated by Prof Subrata Saha, director of musculoskeletal research, the US, here today.
Mohali to host festival of folk dances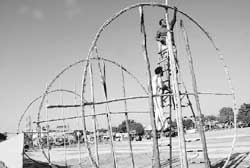 First such show outside Delhi
Mohali, January 28
For the first time ever, the famous Festival of Folk Dances, which remained confined to Delhi during the Republic Day celebrations, will now be moved out of the national capital and be held at Mohali and Jaipur next month.


Structures being put up for national festival of folk dances, to be held in Mohali from Feburary 6, on Wednesday. A Tribune photograph
Council poll on Jan 30
Mohali, January 28
Elections for the posts of senior vice-president and vice-president of the local Municipal Council have been announced again with January 30 being the fixed date for poll.
Medical assn supports Dr Cheema
Patiala, January 28
The state branch of the Indian Medical Association has supported the candidature of Dr Daljeet Singh Cheema, adviser to the Punjab Chief Minister, from Anandpur Sahib Parliamentary constituency.
MC holds conference for computerisation
Chandigarh, January 28
For the computerisation of the working of MC, a pre-bid conference was held today with around 15 company representatives. The meeting was chaired by MC commissioner, Dr Roshan Sankaria, along with other officials of the MC.
GMADA flayed for 'anti-farmer' stance
Mohali, January 28
Members of the Kissan Hit Bachao Committee, panchayats, block samitis, zila parishads and villagers villages today condemned the officials of the Punjab Housing Department and GMADA for adopting "anti-farmer" attitude.
95 attend cancer awareness camp
Chandigarh, January 28
Three cases were suspected in a breast cancer detection camp organised by State Bank of India at the Officers Colony, Sector , here today.

'Asha Nigam Award' for PGI professor
Chandigarh, January 28
Dr Adarsh Kohli, additional professor in the department of psychiatry at the Postgraduate Institute of Medical Education and Research (PGIMER) received the "Asha Nigam Award for child psychology" at the annual conference of clinical psychologists at Hyderabad from January 16-18. This honour is for her lifetime contribution and extraordinary services to the field of child psychology.
Dr Adarsh Kohli
ewild wild web
China Internet use exceeds global average
The People's Republic of China now boasts almost 300 million Web users. It's Internet population recorded about 42 per cent growth in 2008, as penetration exceeded the global average for the first time.
Letters
Lack of civic sense


Teachers on mass casual leave
Academic activity paralysed in colleges, university
Chandigarh, January 28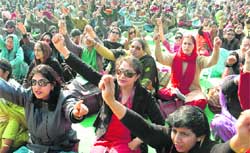 Academic activity was paralysed in city colleges and university today following a mass casual leave protest by teachers seeking implementation of revised UGC pay-scales notified by Ministry of Human Resources and Development on December 31, 2008.

Teachers of universities and colleges of Punjab and Chandigarh at a rally in Sector 25, Chandigarh, on Wednesday . Tribune photo: Manoj Mahajan
PU Notes
'Gandhian philosophy eroded'
Chandigarh, January 28
The three-day international conference under the aegis of the Indian Society of Gandhian Studies in its annual conference started today at Gandhi Bhawan, Panjab University, here today.