M A I N N E W S
Petrol cheaper by Rs 5, diesel Rs 2
LPG cylinder to cost Rs 25 less
Revised rates effective from midnight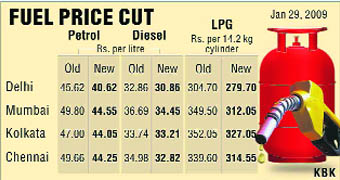 New Delhi, January 28
For the second time in as many months, the government tonight cut petrol price by Rs 5 a litre and diesel by Rs 2 per litre, while the domestic LPG rate was also slashed by as much as Rs 25 per cylinder.
"The Cabinet Committee on Political Affairs headed by External Affairs Minister Pranab Mukherjee decided to reduce petrol, diesel and LPG prices to pass on the benefit of softening international oil prices to consumers," Petroleum Minister Murli Deora told reporters here.
"The reduction will be effective from midnight tonight," Mukherjee said.
"We are giving relief to housewives," Railway Minister Lalu Prasad said pointing to the cut in the cooking gas price.
The reduction comes on back of the Rs 5 a litre cut in petrol price and Rs 2 per litre cut in diesel price on December 6 last year.
UPA chairperson Sonia Gandhi had yesterday hinted at a cut in fuel prices on top of the Rs 5 a litre cut in petrol and Rs 2 per litre reduction in diesel prices on December 6.
The fall in international oil prices has resulted in handsome margins for state-owned firms on petrol and diesel sales, but not all of it would be reflected in the cut in the retail selling price, as Finance Ministry wants to take away some of the gain by raising in form of a Re 1 per litre hike the excise duty and 2.5 per cent the import duty rates. State-owned oil firms are currently making a profit of Rs 9.86 per litre on petrol and Rs 3.48 a litre on diesel.
Global fuel prices reached $147 per barrel in mid-2008 before tumbling to as low as $33.
During the day, Petroleum Minister Murli Deora met External Affairs Minister Pranab Mukherjee, who has been given the finance portfolio, to discuss petrol price cut. The finance portfolio is handled by Prime Minister Manmohan Singh, currently recuperating after a heart surgery.
Notably, Deora had been talking of a reduction in prices of petrol, diesel and domestic LPG since the last week of December.
"Petroleum Ministry had on at least one occasion done the necessary paper work, but the proposal did not reach the cabinet," a senior government official said. "I think it has something to do with politics. They probably want to time it right (keeping the forthcoming general elections in mind)," he had said.
A parallel proposal to free auto-fuel pricing that would have meant rates being adjusted every fortnight in sync with global prices is being opposed as a retreat in international oil prices would mean a price hike on the eve of general elections. — Agencies