India warns of rising protectionism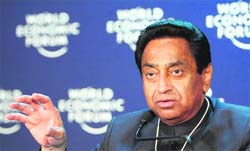 Davos, January 29
India sees growing signs of protectionism and will respond by taking measures of its own if its exporters are threatened, its trade minister said on Thursday. His comments at the World Economic Forum in the Swiss ski resort of Davos were the latest warning that the global economic crisis could fuel protectionism to protect national industries and jobs.

Commerce Minister Kamal Nath at a press conference in Davos on Thursday on the second day of the World Economic Forum. — AFP
Corus plans to sell stake: Report
London, January 29
Tatas-owned Corus, Britain's biggest steelmaker, plans to sell a majority stake in a large steel plant on Teesside for about $450 million, securing about 2,000 jobs at the site, media reports said.
Inflation rises to 5.64%
New Delhi, January 29
Driven by higher prices of essential food articles, inflation inched up further for the second consecutive week, to 5.64 per cent for the week ended January 17.
US House clears $819-b stimulus package
Washington, January 29
The US House of Representatives has passed the $819-billion mega stimulus package, which is aimed at reviving American economy that is reeling under the worst-ever crisis since the great depression of last century.
Starbucks cuts 6,000 jobs
New York, January 29
Joining major companies cutting jobs as recession deepens, popular coffee giant Starbucks and internet services major America online plans to lay off about 6,700 employees in the coming months.
200 m workers under threat, warns ILO
New York, January 29
A top UN agency has called on the governments to focus on productive investment, decent work and social protection as it warned the current global crisis could push some 200 million workers into extreme poverty worldwide.
Debt relief norms eased
New Delhi, January 29
Aimed at operationalising the second stimulus package which would help boost the economy, the government last night gave its approval to relax the debt relief guidelines that would allow states to borrow an additional Rs 30,000 crore to step up capital expenditure.
Café Coffee Day plans expansion
Chandigarh, January 29
Café Coffee Day has lined up a major expansion plan across the country. The coffee chain major is also planning to move up the value chain by launching new verticals like lounges and flagship stores that would showcase how coffee is picked and brewed.
Cabinet refers 3G issue to GoM
New Delhi, January 29
In a clear indication that the auction for the spectrum of the next generation 3G services for mobile phones might not take place during the tenure of the current Congress-led UPA government, the Union Cabinet yesterday decided to refer the issue to a Group of Ministers (GoM).