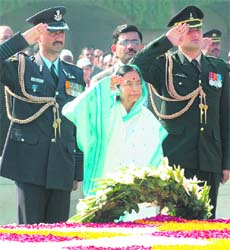 President Prathiba Singh Patil pays homage to the Father of the Nation Mahatma Gandhi on the 61st anniversary of his martyrdom at Rajghat in New Delhi on Friday. A Tribune photograph
Budayun MP in two minds
Weighs his options of joining either Cong or BSP
New Delhi, January 30
The four-time sitting Samajwadi Party MP from Budayun in Uttar Pradesh, Salim Sherwani, is currently weighing his options of joining the Congress or the BSP, depending upon whether the Congress will go alone or align with the SP in the forthcoming general elections.
Parties want celebrities to bat for them
Mumbai, January 30
The forthcoming Lok Sabha elections is likely to see a number of celebrity candidates fronting for different political parties in the Mumbai city and suburban seats.
Adivasis float party in Assam
Guwahati, January 30
Adivasis in Assam today launched a new political party, National People's Party (NPP), following a crucial meeting of representatives of about 20 Adivasi organisations held here.
11 yrs after, Ohio doc's fight for justice still on
Had lost wife to medical negligence; to sit on hunger strike in front of SC
New Delhi, January 30
In 1998, a US-based clinical psychologist died of alleged medical negligence during her Indian holiday; she was 36 when steroid overdose allegedly killed her. Anuradha Saha just had skin rash.
Pension of Generals increased by Rs 3,000
Chandigarh, January 30
The pension of Generals, who were granted pension lower to that of Colonels, following the implementation of the Sixth Pay Commission has now been enhanced. Further, the new pension of Lieutenant Colonels, who retired prior to January 2006, is expected to be fixed at Rs 25,700 once the notification of their upgradation to pay band-IV comes through.
Now, Ramadoss condemns pub culture
New Delhi, January 30
Karnataka Chief Minister BS Yedyurappa's anti-pub campaign today found support in Health Minister Anbumani Ramadoss, who said he was opposed to any culture that promoted alcohol consumption in any way.
Tackling Terror
Commando unit for rlys soon
Hyderabad, January 30
In the backdrop of Mumbai terror strikes, the Railways is gearing up to raise a special commando outfit, on the lines of National Security Guards, to repulse terrorist attacks at railway stations and its properties.
Tax Inspectors' Exam
After 10 years, Punjab submits results to SC
New Delhi, January 30
The Punjab government today submitted in a sealed cover the results of the 1999 examinations held for recruiting 53 Inspectors in the Excise and Taxation Department that had been stalled in December 2001 due to the Assembly elections.
Prime Minister may be discharged today
New Delhi, January 30
On a speedy recovery post-heart bypass surgery, Prime Minister Manmohan Singh is likely to be discharged from AIIMS tomorrow. "If everything goes well, the PM would be allowed to go home tomorrow," said AIIMS sources, adding that his discharge tomorrow was "very likely".
Released sailors arrive in Mumbai
Mumbai, January 30
As many as 25 Indian sailors onboard the MT Biscaglia, who were held hostage for more than two months by Somalian pirates, arrived in Mumbai early this morning. The hostages were released last week after the Liberian owners of the vessel apparently paid a ransom.
Uphaar fire: Ansal brothers get bail
New Delhi, January 30
The Supreme Court today granted bail to the Ansal brothers, Sushil and Gopal, in the Uphaar cinema hall fire case in which they have been sentenced to one-year imprisonment.
India ready to talk to Holbrooke
New Delhi, January 30
Now that the Obama administration has clarified that Kashmir will not be in the mandate of Richard Holbrooke, the newly appointed US Special Representative for Pakistan and Afghanistan, India has no hesitation in dealing with him when he visits the region shortly.
UN Secy-Gen to visit India
New Delhi, January 30
India is expected to share with United Nations Secretary-General Ban Ki-moon its findings in the Mumbai terror attacks mounted from the Pakistani territory when he pays a day-long visit to New Delhi on February 5.