Students take part in tug of war during Basant celebrations at the GGNIMT at Ludhiana on Saturday. Tribune photo: Himanshu Mahajan

Students of Kiddies Paradise School celebrate Basant Panchami in Ludhiana
on Saturday. Photo: Inderjeet Verma
Some relief to residents of NH-1
Ludhiana, January 31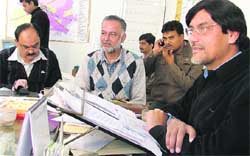 Coming to the aid of residents of National Highway-1, who were issued eviction notices by the municipal corporation, chief parliamentary secretary Harish Rai Dhanda today said that those who had constructed houses and other buildings before 1996 could stay put and no action would be taken against him.
Chief parliamentary secretary Harish Rai Dhanda (right) at a press conference in Ludhiana on Saturday. A Tribune photograph
Tuition fee embezzled at evening college
Ludhiana, January 31
The evening college being running at SCD Government College here is under scanner for allegedly embezzling tuition fee that had to be deposited in the treasury branch of the State Bank of India on August 8 and November 2, 2008, respectively.
Rs 40 cr sanctioned for textile park
Ludhiana, January 31
The Union Finance Ministry has sanctioned a textile park for the city for the development of the hosiery and textile industry.
Labourer killed as boiler bursts
Ludhiana, January 31
A labourer succumbed to his burn injuries when a boiler at a dyeing unit near Geeta Nagar reportedly burst due to overheating. The victim has been identified as Ram Tirath (50) from Uttar Pradesh. He was working as a dyeing operator at the factory.
City Concerns
The issue of handling over 30,000 stray dogs in the city gathers significance in light of the recent Supreme Court observation that "stray dogs, even those which are causing nuisance, cannot be killed arbitrarily". Experts feel that instead of handling the issue sensitively, a group of people was unnecessarily raising a voice for the killing of stray dogs.


150 yrs later, town still lacks basic amenities
Residents threaten to boycott poll
Mandi Ahmedgarh, January 31
Regretting that the town lacked basic amenities even after 150 years of its establishment, a section of residents led by social activists Abhay Jain and Tarsem Garg have threatened to boycott elections in those contesting from this constituency and their supporters did not clear their stand on long-pending demands.
Rs 10-crore grant for PAU
Ludhiana, January 31
The Punjab Government has released a grant of Rs10 crore for the Punjab Agricultural University for disbursement of pension to the retirees of the university. The Chief Minister Parkash Singh Badal had ordered the release of grant to the PAU to meet its pension commitment.
Harvesting laboratory set up at vet varsity
Ludhiana, January 31
A student's laboratory on combine harvesting technology was inaugurated at the PAU College of Agricultural Engineering yesterday. The laboratory has been developed in collaboration with CLAAS, one of the biggest farm machinery producers worldwide.
Seminar on information technology
Mandi Gobindgarh, January 31
Desh Bhagat Institute of Management and Computer Sciences organised its 7th national seminar on the theme of Techvision 2020- Emerging Paradigms in Information Technology.
Congress on parasitology from Feb 3
Ludhiana, January 31
Guru Angad Dev Veterinary and Animal Sciences University (GADVASU) will organise XIX national congress of veterinary parasitology under the aegis of the Indian Association for the Advancement of Veterinary Parasitology from February 3 to February 5. The theme of the congress is "National impact of parasitic diseases on livestock health and production" with focus on changing trends in parasitology from eggs to genomes.
Book on human resource management released
Ludhiana, January 31
In today's era of globalisation, business has become borderless and all nations are witnessing a paradigm shift in human resource activities.
'Essence of acting lies in live theatre'
Ludhiana, January 31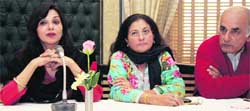 Smita Jayakar, the name reckoned with Marathi, Hindi, Urdu and English theatre, accredits theatre artists for playing an important role in cultivating a good taste towards the theatre among the Indian diaspora.
The director of the play, Lillete Dubey, with Smita Jaykar and Aman Talwar address the media in Ludhiana on Saturday. Photo: Rajesh Bhambi
Vegetable market to be upgraded: Lakhowal
Ludhiana, January 31
Punjab Mandi Board is all set to construct state-of-the-art mandis in Punjab in the near future. Latest facilities like fruit-ripening chambers, cold room, grading lines, re-conditioning room, packing house and equipment will be provided for cleaning the mandis and the new vegetable market at Ludhiana will be provided all facilities. These views were expressed by Punjab Mandi Board chairman Ajmer Singh Lakhowal while addressing a seminar on "Fruits and Vegetables, production, protection and marketing" at Wheat Auditorium of Punjab Agricultural University (PAU) here today.
Hosiery units suffer loss as goods pile up
Ludhiana, January 31
Ludhiana, the home of hosiery industry, has not witnessed a good season this year mainly due to the fluctuating weather conditions. Even the export front has not faired well due to the global meltdown. Stocks of finished goods are now piled up with the local manufacturers and they have started clearance sales of the same.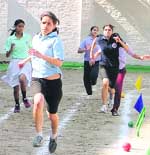 Kashish first in lemon race
Ludhiana, January 31
Full of vigour and energy, participants competed in various events on the second day of the 64th Annual Athletics Meet of Kundan Vidya Mandir, here today. A competition for school staff was also organised. Principal of Kundan Vidya Mandir Rajiv Nagalia along with the faculty and students was present there to encourage the participants.
Students take part in a race during the annual athletics meet of Kundan Vidya Mandir, Civil Lines, in Ludhiana on Saturday. Photo: Inderjeet Verma
Navneer, Aneel adjudged best athletes
Ludhiana, January 31
Navneer Singh and Aneel Ahluwalia were adjudged the best athletes, while Aryabhatt house bagged overall championship in the annual sports meet of Ryan International School, Chandigarh Road, Ludhiana, that concluded today.