Haute cuisine masala
Aradhika Sharma
The Hundred-Foot Journey
by Richard C. Morais.
HarperCollins.
Rs 295. Pages 180.
THE reviewer realises that this is a book that lacks in various ways, but she is not going to be too critical of it simply because she had so much fun reading it on a holiday! Itís an interesting, slick book with some over-the-top characters, a protagonist whom we really do not get to know really well even till the end of the book and details that at times do not gel.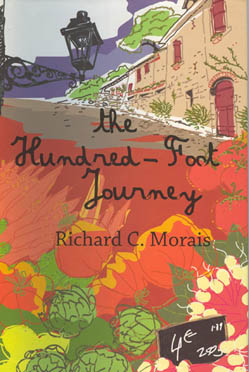 Books about food are usually appealing. This one is about the haute cuisine world of Paris and the journey of Hasan Haji, who gets to rule it. Itís the story of the young boy who moves from the bustle of the Indian kitchen, with its masalas and oils, to becoming a high priest of his own kitchen in France, where food is an art, as well as an elaborate and precise craft!
The book combines the essences of both the robustness of Indian gravies as well as the artistry of cordon bleu French cuisine. So, odours of Icelandic ptarmigans (did you know that these are a kind of pheasant found in the Arctic circle?) being cooked in exotic sauces or salad of Belgium endive garnished with chunks of Norwegian smoked lamb and quailsí eggs mingle with the whiff of macchi ka salan and chicken tikka masala.
"All the recipes are based on fact ó actual dishes in cookbooks or I have cooked myself or have seen someone cook ó and you could in theory follow them," said Morais about the food craft in his debut novel.
Morais worked on The Hundred-Foot Journey for several years while working as a journalist in Forbes magazine with a brief that allowed him to write on any subject he choose and to travel anywhere in the world. "As a journalist, youíre used to filing away anything that you think might be interesting, even if it doesnít relate to what youíre doing just then," says Morais.
"Whenever Iíve been anywhere, and Iíve, Iíve sort of made mental notes when going to eat somewhere or had the chance to see the kitchen in restaurants in places like New York, London and Paris or when I met someone."
The book is homage to Ismail Merchant, whom Morais also sources for information on Indian cuisine. "We both loved eating well and banging the pots in the kitchen," says Morais. It was, in fact, the idea of turning the book into a Merchant-Ivory film that was the motivation behind its genesis. So much so that Hasanís flamboyant father is modelled on the personality of Merchant. "I told him he should do something that would combine his love for food with his passion for film and that I would help him with it," said Morais.
The story is about a middle-aged chef, Hassan Haji, who tells of the journey of his life that spans his familyís modest restaurant in Mumbai to his elegant restaurant in Paris. A tragedy in Mumbai forces Hassanís family to undertake a journey to England and there after to Lumi`E8re, a quaint and remote little village in France. Here, they settle opposite a famous chef, Madam Mallory, one of the acolytes of French cuisine.
Then comes the classic clash between two overpowering personalities, Madame Mallory and Hasanís father, each trying their best to outwit the other. Itís a cultural clash as well as a clash of cuisines. Finally, however, the imperious Madame Mallory discovers that the young Hasan who cooks with `E9lan in the contemptible Indian restaurant is a chef with natural gifts that could make him a student worthy of passing on her knowledge to. And this is when young Hasan discovers his true destiny in life. The novel thus refers to Hasan crossing over from Maison Mumbai to Weeping Willow, the restaurant of Gertrude Mallory, the Ďculinary nuní who comes from the "family of Mallorys who had reared generation after generation of great French hoteliers". Mallory sets off Hasan on his way to becoming a world-class chef.
Itís too bad that in the latter half of the book there is no reference at all to Mallory. She just disappears, as does Hasanís larger-than-life father. Still, the book is a Ďtastyí read, replete with tastes and whiffs of exotic meals.