Chips for Jumbos
Vipul Goel

THEIR deft strokes transform a frail, earthly figure into the mighty Indian demigod Hanuman. Their soft touches can change a scrawny pork-marked face into that of an 'apasara'. But the make-up artistes of the Kathakali theatre, the classical dance drama of Kerala, are destined to remain the unsung, backstage heroes unlike the actors, musicians or drummers, who hog the whole limelight.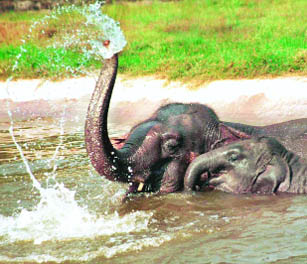 The digital reader will help wildlife
authorities at Jim Corbett National Park
to keep track of the elephants

Elephants in Jim Corbett National Park in Uttarakhand have been fitted with microchips, which will act as their identification proof. Fitted with the help of a syringe, these chips will help the authorities identify the elephants from among the wild ones.
The chips would provide a unique identification number to the elephants, which would enable the wildlife authorities at the park, to keep a track on these elephants through the means of a digital reader.
The chips would also ensure that the owner of the elephants, which are used to ferry visitors around the park, do not exchange their old and ailing jumbos with another elephant.
"The microchip gives a unique identification number to the elephant. The chances of that animal mixing with others and even the owners exchanging their animals with other elephants are reduced," said D. S. Rawat, Warden, Jim Corbett National Park. The authorities at the park would only allow the elephants installed with microchips to take the visitors for a trip around the park. So far around 17 elephants have been installed with these microchips and many more are in queue to get their digital identification. — ANI