That messed-up look
Anju Munshi
YOU may consider yourself fashionable but that is not enough. You have to sport the look of the day. The messed-up look tops the popularity chart at the moment—the art of looking carefully careless. So it is in perfect order to take out those torn jeans out of your closet, wear wrist bands with messages in place of heavy gold bangles, coat your eyes dark and deep and not thin and perfectly lined. For the men the unshaven look complements the look.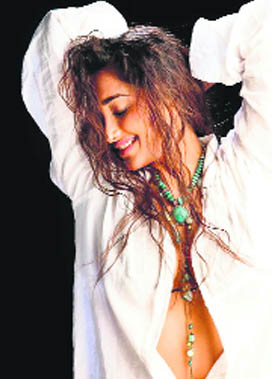 The idea is to pass on the message of being different and unconcerned

Welcome to the new age mantra which flaunts the attitude, 'who cares?' This has become the favourite theme of fashion houses, dress designers too.
The look says yes to low-slung trousers or torn jeans; an untidy mass of hair clumped together that pines for a comb in place of neatly styled hair—in short, a carefully dislodged appearance. Actually, these are carefully constructed ways of dressing up to appear as if one is careless about it and passing on a message of being different, unconventional and unconcerned.
Ankita Taplu, a 22-year-old fashion designer from Delhi, finds it very much in sync with the present generation. "Unspoken words have power. Similarly, minimalist code in clothes as in conversation is bound to flaunt a winning streak. Dressing up is an attitude and your dress details are a tell-tale sign of your personality and your behaviour."
To keep pace with this trend, the dress gurus have made an effort to devise ways and strategies that can take out the person in you rather than the cut and the fit of your clothes or the shade of your rouge.
`A0At present, 'less is more' is the favourite mantra. One of the tricks to project it is to have a nude (read less) look, which means subtle yet strong reminders of your personality. At least for now, heavy ornate jewellery and matching every bit of it with your accessories and your outfit is out. One big pendent, one stunning bracelet, or out- of-the-ordinary leather earrings is more with it to make a mark.
This is tricky because it is difficult to part company with some of the traditional support systems for beautifying a face—eyeliners, rouge and the lipstick. Add to this the consumer boom, when one is in possession of so much variety by way of bags, clothes, footwear, branded cosmetics and, of course, junk jewellery. One good way of avoiding looking a disaster in the minimalist-look time is to choose one-at-a-time rather than piling it up at one go.
Berit Steffin, an Austrian designer recognised globally for her creations in contrasts and who is also associated with Kolkata's new outlet Vizyon as a consultant, finds that, in general, Indians wear everything together, thereby losing out on making an impact. "Even jewellery is overdone, when everything from earrings to bracelet is matched. One good single piece is better than aggressive coordination of jewellery," she says.
However, fashion changes frequently. What is in today will be out tomorrow. But the attitude does not, say fashion experts. Even politicians are getting into a relaxation mode where clothes are concerned. Crisp salwar suits with neatly folded dupattas are giving way to trousers and a casual scarf. This became evident when Priya Dutt and Jaya Prada were dressed in trousers for a Parliament session. — TWF