Small is beautiful
R. K. Bhasin writes about Matheran, India's smallest hill station

A signboard at Dasturi Naka, the entrance to Matheran, situated at a height of 803 metres, in Maharashtra, carries the information that it is the tinniest hill station in India, the only pedestrian destination in Asia and the most clean hill station in India, which has been declared as eco-sensitive-zone by the Government of India.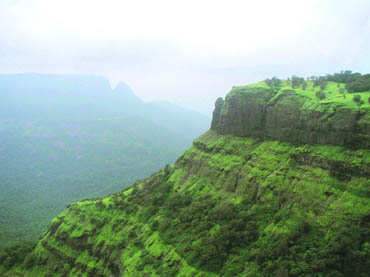 Matheran is an undulating hilltop cloaked in green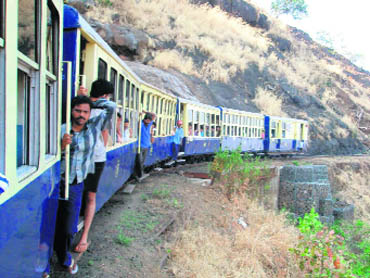 The 102-year-old toy train makes the journey from Matheran to Neral a fascinating one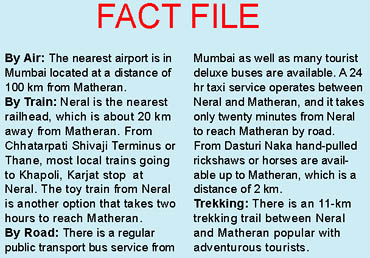 It was discovered in 1850 by Hugh Poyntz Malet, who was the collector of Thane district. During camping around the village, he came across a spring that still bears his name. In the beginning wealthy Parsis from Mumbai inhabited Matheran and their old villas still dot the place.
This scenic hill station in Western Ghats has another USP. No motor vehicle, except emergency vehicles, is allowed in Matheran beyond Dasturi Naka. Hand-pulled rickshaws, horses and walking are the only means of travelling. This, perhaps, is the reason behind the fresh and invigorating air here.
Matheran, which covers a total area of 7.35 sq km, has remained untouched by commercial 'greed' for over a century. The bazaars still have mud tracks, as the roads are not tarred and are made of red laterite earth.
There are no multi-storey buildings here, since this place falls under eco-sensitive-zone. Construction is not allowed here and probably that's why Matheran has maintained its old-world charm.
Matheran means 'forest on top'. And this is what it is exactly - an undulating hilltop cloaked in green. It also has a reasonably dense forest cover.
Getting there is half the fun. Matheran is connected by a toy train to Neral, 90 km from Mumbai. The train meanders up the mountain, treating visitors to a breathtaking view. The toy train, which started on April 15, 1907, is another heritage piece. Neral is not to be confused with similar sounding Nerul, which is a suburban railway station of Mumbai.
The track here is only two feet wide in comparison to other tracks in India, which are two feet and six inches wide. This 20-km long rail track in Sahayadri mountain range was constructed and funded entirely by an Indian duo, Sir Adamjee Peerbhoy and his son. There are 121 bridges and one tunnel known as one-kiss tunnel.
World heritage status for this heritage narrow-gauge rail track is under consideration of United Nation Educational Scientific and Cultural Organisation (Unesco).
The best time to go to Matheran is probably from September to June, as the monsoons get really heavy during the rest of the year. Matheran is a visual delight post-monsoon with lush greenery, waterfalls and the lake full with water.
Being a hill station it is pleasant almost throughout the year though the nights can get a bit chilly. The temperature rarely goes above 35`B0C even during peak summer afternoons.
There are a lot of lookout 'points' that provide spectacular views of the surrounding hills and valleys.
The main places to visit are Panorma Point, which is the highest point of the hill station, and offers a breath-taking view of Neral town, Mumbai-Neral railway line and toy train. Sunrises are spectacular here. So is the sun going down behind the Sahayadri range, which makes for a beautiful view at the Sunset point.
Charlotte Lake, an enchanting lake surrounded by hills and trees, fulfils the drinking water requirement of Matheran. Three waterfalls feed this lake. There is another high-rise, Hart Point, which offers a view of Mumbai. Then there is the One-Tree Hill, which has only one tree on the top as the name suggests.
King George Point offers another breath-taking view of mountains and a lake. At the aptly-named Suicide Point, the cliff, with an incredibly steep drop to the plains below, creates a stunning viewing point. The Echo Point, too, does justice to its name.
On a clear night, one can even see the lights of Mumbai from Hart Point. In fact, all of Matheran is a series of such quixotically named points that are popular, if isolated, sites for picnics and fireside revelry at night. Malet Spring, Luisa Point, the Panthers' caves and Paymaster park are some of the other attractions, the last two are specially popular with children.
Items to purchase are Kohlapuri chappals, leather goods, chikki, fudges and dry chutney from the
local market.
With the ban on motor vehicles and construction, this tiny, green jewel of the Western Ghats offers the quiet of a bygone era when life was slow moving, quiet and an absolute bliss.