Stonehenge
A rave venue, says expert

Stonehenge, one of the most famous pre-historic sites in Britain, has long baffled archaeologists who have argued for decades over its 5,000-year history. Now a researcher has claimed that it was a venue for ancient raves.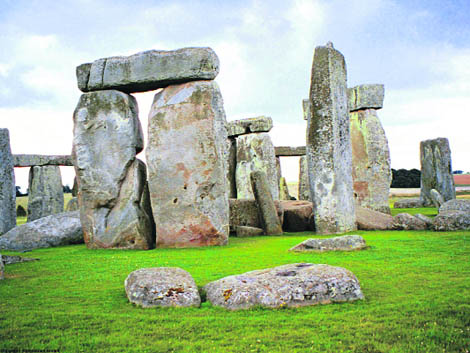 Stonehenge, one of the most famous pre-historic sites in Britain, has baffled archaeologists for a long time

In fact, according to Prof Rupert Till of Huddersfield University, Stonehenge was actually created as a "dance arena" for listening to "trance-style" music.
Professor Till, who is an expert in sound and a part-time DJ, said that the monument had the right acoustics to amplify certain sounds called "repetitive trance rhythm".
The famous standing stones has been of keen interest to archaeologists who have argued for decades over the stone circle's 5,000-year history. However, Till claimed to have uncovered the mystery by suggesting it might have been used for ancient raves.
He said that the original Stonehenge might have had a "very pleasant, almost concert-like acoustic" that took generations to perfect.
Till used a computer model to conduct experiments in sound, as he could not test his theory in the already shattered Stonehenge.
The biggest discovery was made when he and colleague Dr Bruno Fazenda visited a full-size concrete replica of Stonehenge, built as a war memorial by American road builder Sam Hill at Maryhill in Washington state.
Till said that the replica had all the original stones intact, and was ideal for his research.
"We were able to get some interesting results when we visited the replica by using computer-based acoustic analysis software, a 3D sound field microphone, a dodecahedronic speaker, and a huge bass speaker from a PA company," the Telegraph quoted him
as saying.
"By comparing results from paper calculations, computer simulations based on digital models, and results from the concrete Stonehenge copy, we were able to come up with some of these theories about the uses of Stonehenge.
"We have also been able to reproduce the sound of someone speaking or clapping in Stonehenge 5,000 years ago. The most interesting thing is we managed to get the whole space (at Maryhill) to resonate, almost like a wine glass will ring if you run a finger round it.
"While that was happening a simple drum beat sounded incredibly dramatic. The space had real character; it felt we had gone somewhere special," Prof Till was quoted by 'The Daily Telegraph' as saying.
Stonehenge, located in the county of Wiltshire, is composed of earthworks surrounding a circular setting of large standing stones and sits at the centre of the densest complex of Neolithic and Bronze Age monuments in England, including several hundred burial mounds. — ANI, PTI