Danny chose me over Indian actors: Dev Patel
Dev Patel, who has won much critical acclaim for his performance in Slumdog Millionaire said he landed the role after director Danny Boyle could not find an Indian actor to play the young slum-dweller Jamal.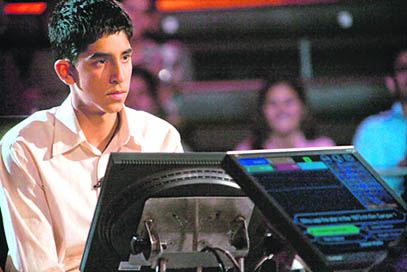 Dev Patel as Jamal in his debut film Slumdog Millionaire

"Most Indian actors of my age want to be Bollywood stars, so they spend their time honing their bodies for beefcake roles. Danny wanted someone ordinary, like me. So thatís how I found myself in the lead," said the young star in an interview with Daily Mail. Patel, who is a British citizen of Indian origin, plays the lead in the film, along with Anil Kapoor and Irrfan Khan.
This is Patelís first film and the actor, who according to Boyle has the potential to be the Ďnext Michael Sheení, said that he didnít think he stood a chance at getting the role while auditioning.
"Iím as bewildered and starstruck as any other teenager could get in the situation I am in now," he said.
And with Slumdog Patel has been removed from obscurity and is on a headlong journey to fame and fortune as the film is on an award-winning spree. It has already bagged four Golden Globe awards.
"Iíve been living two different lives," said Patel, adding that his family helps him keep grounded.
"By day, Iíve got the leading role in a movie, in spite of having no acting training and very little experience.
And at night I go home and my mum is telling me to make my bed, keep my room tidy and help with the washing-up. It keeps my feet on the ground, stops me from letting it all go to my head," he said. ó PTI