ulta pulta
TRP tales
Jaspal Bhatti

A hot debate is on whether the media should restrain itself in a responsible manner while covering sensitive issues. But the TRP ratings of a channel, on which its survival exists, is a more sensitive issue.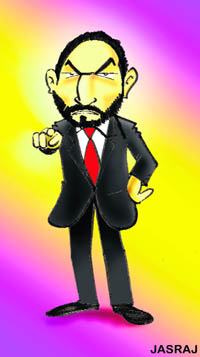 If an anchor reads a news story how Dr Manmohan Singh intervened to scuttle the proposal to gag media when it covered sensitive terrorist operations, the viewer may not take much interest. Even L. K. Advani or Arun Jaitley would yawn, as they, too, wouldn't find anything to object to.
But imagine an anchor, who looks like a gangster, telling the same story in a sensational manner, 'Ek khatarnakh sajish..Kaun the woh log jo gala ghotna chate the aapke TV channel ka... Kaise bachaya Manmohan ne apni jaan par khel kar...Dekhte hai break ke baad." The channel's TRPs might increase by at least 0.1 per cent.
Sometimes, in a bid to boost channel's ratings, anchors sensationalise simple crime stories in such a way that children hide under the bed in fear, while women switch over to saas-bahu serials to watch another kind of violence. The anchors of some crime programmes themselves look as if they have just been released on parole.
A few news channels seem to specialise in stories on ghosts, evil spirits and exorcism. If more freedom were given to these channels they may even show what kind of spirits possess Mayavati and Amar Singh.
Instead of imposing censorship, special awards should be constituted for showing the gory images. A news channel got the first prize for showing an act of hooliganism act for a record 1000 times. Some political party workers had beaten up a university professor mercilessly and the channel kept on repeating the footage. The channel head shouted, "Arre, at least reinstate the employee whom we had suspended. It was he, who forgot to remove the cassette of the footage while going out for lunch."