Preserving the legacy
The city's past, stored in form of manuscripts, original sketches, lithographs and photographs, get digitalised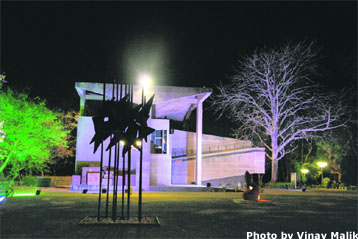 A direct link between Indus Valley Civilization and City Beautiful! When we heard it for the first time from a museum expert, it all sounded a little too far-fetched. But as similarities were drawn and blueprints of Chandigarh by great architects like Maththew Nowicki, Mayer and Le Corbusier laid out to prove the point, we began to see those similarities too - grid system which existed in Indus settlements are an integral part of the city.
Acid test
This actor of Acid Factory has his fingers in too many pies
Out of the two, which one would you steal a glance for good look - Dino Morea or his elder brother, Nicolo (Nic) Morea. You are in for a surprise, for it was Nicolo who grabbed all the attention, without any effort. And sorry Dino, we love you still. In that white tee and hair pulled back, you look deadly. Okay, the occasion is the opening of Crepe Station Cafe in Sector-35, which has brought in Nic, Dino and the other members to the city.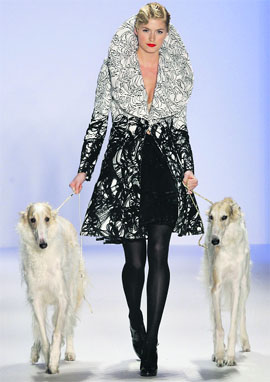 A model presents a creation by Guido Maria Kretschmer at the Berlin Fashion Week 2009 in Berlin, on Saturday. Photo: Reuters

Cause and concern
Today is World Wetland Day! Now even the ones not into celebrating world XYZ days need to seriously pay attention to this. Why? For the uninitiated, the city beautiful's 225-year-old heritage pond in Sector 26 nursery is under threat due to Chandigarh Administration's plan to build up a club for VIPs .
Masti once again
This Punjabi singer believes in quality over quantity
Sixteen years into the profession and just five music albums. That's it! The number is quite a surprise when we see around 50 Punjabi music albums releasing every month. Here is someone who though not intentionally, seems to be following footsteps of Aamir Khan. "Quality matters and not quantity," believes Punjabi Pop singer Ashok Masti and abides by it by releasing one album every two years. Figures and trends do not bother him and he takes pride in working on his own conditions. Well, the singer takes this liberty for he is sure his fans do not mind it. "My last album, Karkhe Glassy came two years back and people still love it. For me, important is what ever work I do, it should get registered with audience," says Ashok, who was in town on Sunday to attend launch of G-Asia, a website of a Punjabi magazine.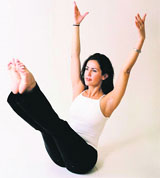 Yoga to Yogalate
If aerobics or yoga has lost sheen, here are a few exercises you can try
Cardio's so done, aerobics seems to have lost punch and yoga just doesn't kick. Suckers for experiment and excitement in exercises are a harried lot. Sympathising with those bored of the regular fitness routines, restless brigade, including the ones genuinely interested in new and lesser known forms of exercise, here's an attempt to provide alternative solutions available in city.
BODY wise
Feel it in the bones
For all the right reasons, it is important to have calcium in your diet. And bones need it the most. Not only does this mineral aid in bone formation, it also plays a role in muscle and heart contraction, blood clotting and nerve transmission. Even more exciting is that recent studies suggest the calcium may help in weight loss.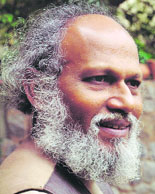 Remembering Randhawa
To celebrate the birth centenary of Dr. M. S. Randhawa, Chandigarh Lalit Kala Akademi is organising a Dr. M. S. Randhawa memorial lecture on art and architecture. by internationally acclaimed artist Jatin Das on February 2 at 5pm at the Auditorium of Govt. Museum and Art Gallery-10. An exhibition of Dr. M. S. Randhawa Memorabilia is also being organised that will be inaugurated by Shri Jatin Das. Renowned art historian Professor B. N. Goswamy will give inaugural remarks about Dr. Randhawa and his work. When we go through the achievements of Dr. Randhawa, it is amazing to know how one person had achieved so much in one lifetime and made a great difference in the lives of thousands of people.
Present perfect
In keeping with the spirit of love and togetherness, Orra-The Diamond Destination introduces its latest collection, Hearts of Perfection pendants, for the Valentine season.
Spiritual Shankar
This year is special for Shankar Sawhney. Having sung Hindi and Punjabi tracks, the singer for the first time, will come up with a sufi album. "I have sung sufi songs before but this time it is special since it is a full fledged sufi album," says Shankar. Also the genre happens to be his favourite, "Sufi music is though an age old music form, it is still so popular among people for it is soulful and soothing."
Curious case of chaos
Brad Pitt has confessed that with six children in the house, his place becomes 'chaotic'. However, the hunk insists that he still finds the experience joyful. The kids might be from four different countries, but the Hollywood star insists that they are bound by blood. "It's chaos at times, but there's such joy in the house," a magazine quoted him.
Restaurant diaries
Popstar Justin Timberlake is keen to open another restaurant after his first eatery called BBQ restaurant/bar Southern Hospitality on Manhattan's Upper East Side became a hit with the locals. The My Love hit maker opened his first restaurant in 2007.
Smooch ride
Renee Zellweger has confessed that her smooch with Russell Crowe in The Cinderella Man was 'intense'. In an interview on a television show, the 39-year-old actress rated her smooches with co-stars George Clooney, Russell Crowe, John Krasinski and Harry Connick Jr.
Throwing weight
Donning skin-tight leather trousers, Jessica Simpson made a public appearance to blast criticism surrounding her 'curvy' body. The singer's rather 'full body' was largely criticised after pictures of her concert in Pembroke Pines, Florida on January 25, were made public.
Tragic times
Underworld star Kate Beckinsale has revealed how tragically her father, Richard, died in his sleep at their Berkshire home, while her mother, Judy, was undergoing surgery to have more kids. Kate recalled that she was just five when the Porridge star died in 1979, aged just 31.