HR summit at Rayat
Kharar, February 2
Rayat and Bahra group will organise a one-day human resources summit to discuss challenges in the global era of meltdown and economic downturn.
School for Deaf and Dumb gets new building
Patiala, February 2
The School for Deaf and Dumb has been shifted to a modern, spacious and state-of-the-art building at Saifdipur village behind the Punjabi University campus here.
Inculcate reading habit, says Pbi varsity VC
Patiala, February 2 The vice-chancellor of Punjabi University Dr Jaspal Singh, today called upon all Punjabis to adopt the habit of book reading and should have book shelve in their living room instead switching on to the televisions.
Forum seeks more cut in fuel prices
Bassi Pathana, February 2
In its meeting, the local consumer forum has appreciated the fall in the prices of petrol, diesel and LPG gas cylinders.
Ex-servicemen to contest Lok Sabha elections
Fatehgarh Sahib, February 2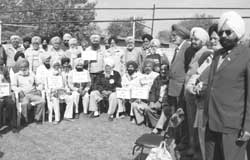 The State Ex-Servicemen Welfare Association (SEWA) today decided to contest the upcoming Lok Sabha elections from various seats in Punjab.





Members of the Ex-Servicemen Welfare Association seek redress of their problems at Fatehgarh Sahib on Monday. A Tribune photograph
Police clueless in murder case
Ambala, February 2
The police could not achieve any clue in the murder of a middle-aged woman whose body was found in a drain near motor market near Ambala City yesterday. The body was wrapped in a cloth and badly decomposed.
PWD aid for maintenance
Kalka, February 2
The PWD department is going to spend crores on the construction and maintenance of the roads and new bridges in the Pinjore Block, informed former secretary of the state Congress Vijay Bansal.


Lawyers divided on amendments to CrPC
Chandigarh, February 2
Taking a cue from protests at other courts across the country against recent amendments made by the government to the Code of Criminal Procedure, 1973 (CrPC), the district courts here has also aligned with the protests.
Two hurt in mishap
Panchkula, February 2
Two children were injured seriously when a truck hit their Scooty in Sector 15 here today. The injured were identified as Sravan (17) and Pradeep (13) of Budhanpur village in Sector 16. They were taken to the general hospital, Sector 6, from where they were referred to the PGI.
Servant charred to death
Chandigarh, February 2
Vinod, a 17-year-old servant, was found charred to death at his employer's residence in Sector 37, here, in the wee hours today.
Minor arrested for rape
Chandigarh, February 2
The police arrested a 17-year-old boy of Dadu Majra village on charges of kidnapping and raping a minor girl of the same village.
Youth's body found on railway track
Chandigarh, February 2 Sonu, an 18-year-old resident of Bapu Dham Colony, Sector 26, was found dead under mysterious circumstances at elevated railway track near Industrial Area, Phase I, here this morning.
GMCH employee in CBI net
Chandigarh, February 2
Sleuths of the Central Bureau of Investigation (CBI) arrested Mohan Singh, a junior assistant in the Government Medical College and Hospital (GMCH), Sector 32, while allegedly accepting a bribe of Rs 5,000 from a Mohali resident today.
10 booked for trespass
Kharar, February 2
Four women, among ten people, were booked today for forcibly taking possession of a land in Radiala village and threatening its owner as well.
Man assaulted, threatened
Chandigarh, February 2
The police registered a case on the complaint filed by Nand Lal of Colony No. 4 alleging that Raju, Babbu, Kapil, Santosh, Teera and Rinku of same colony have beaten and threatened him and his friend Mitlesh, here yesterday. Mitlesh was injured and admitted in the Government Medical College and Hospital, Sector 32.


Pbi varsity emerge winners
Patiala, February 2
Punjabi University boys secured overall position in All-India Inter-University Fencing Championship that was held recently in Kannur University, Kannur (Kerala), from 24 to 27 January, 2009.
Kabaddi: GGDSD rattle SPN College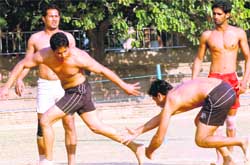 Chandigarh, February 2
Lala Jagat Narayan Education College, Jalalabad (Ferozepur), outclassed GHG Khalsa College of Education, Gurusar Sadhar (Ludhina), 44 -19 during the Panjab University Inter-College Kabaddi (PS) Tournament for Evening and Education Colleges being played on the PU grounds, here today.


A kabaddi match in progress in Chandigarh on Monday. Tribune photo: Manoj Mahajan
PCA Colts lift Kings XI Punjab Cup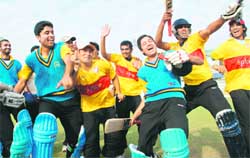 Mohali, February 2
Taruvar Kohli, who played a fast knock of 41 runs off 40 balls, ensured the win of PCA Colts over PCA XI by six wickets in a final encounter to win the first Kings XI Punjab Cup that concluded at the PCA stadium, here today.



A jubilant PCA Colts team after winning the Kings XI Championship at PCA Stadium in Mohali on Monday. Tribune photo: Vicky Gharu
Free entry for hockey buffs
Chandigarh, February 2
Seeing the enthusiasm of the hockey lovers for the four-nation Punjab Gold Cup Hockey Tournament being played on the astroturf of the Sector 42 Hockey Stadium, the Punjab sports department has decided to allow the crowds free entry to witness the remaining matches.
Book on hockey released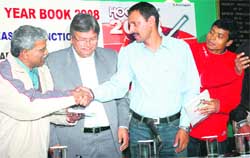 Chandigarh, February 2
The lost glory of hockey might revive with the emergence of a tournament like the ongoing Four-Nation Hockey Tournament, national selector and former Olympian Aslam Sher Khan said.


The author and publisher of Hockey Year Book 2008, K. Arumugam, hands over the book to national hockey coach Harendra Singh in Chandigarh on Monday. Tribune photo: Manoj Mahajan.
10 city golfers in fray
Chandigarh, February 2
Fresh from his triumph in Dhaka, Harendra P Gupta will lead the Chandigarh challenge along with nine city golfers in the Rs 30 lakh prize money PGTI Players Championship that gets underway at the Tollygunge Golf Club in Kolkata tomorrow.