Knot so easy
Mona
Claimed Shakespeare centuries back in his famous sonnet True Love. But in today's world of fast food, instant messaging and nano technology does this definition of 'true love' hold ground? Well, certainly not, if you go by the love affairs that spring up to media attention and are lost pretty soon.

Visionary's vision
Ashima Sehajpal
It's a merger of past and present, a confluence of feelings of artists and art connoisseur from the city, a medium to show respect and celebrate the birth centenary of the late first administrator of Chandigarh Dr. M.S Randhawa. This might be the basic description of 'Dr. Randhawa Memorabilia'-an exhibition being showcased at the Chandigarh Museum and Art Gallery-10, but look beyond and you will realise how significant the whole event is.



The life history of Dr. Randhawa in frames
Lapping up notebooks


What are some of the innovative features being incorporated in notebooks?
Some of the latest features being incorporated in notebooks are LED or LCD backlight that helps on saving energy consumption, super quick battery charging, 100 percent colour gamut. Supplemented with a carbon fibre body for lightness and rigidity, enhanced scratch resistant screens, glossy colours and an isolated keyboard panel, Sony VAIO notebooks complement your style while providing uncompromising performance.


Jodi no 1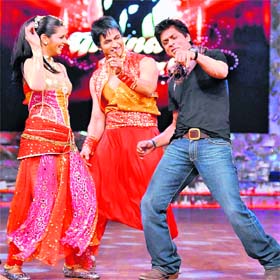 Bollywood actor Shah Rukh Khan (right) dances with winners Shaleen Bhanot (middle) and Daljeet Kaur (left) during the Grand Finale of Nach Baliye-4. PTI photo
Cash-in on Facebook
In a bid to create revenue from Facebook's 150 million members, the founder of the popular social networking site has created one of the world's largest market research databases. With the move, Mark Zuckerberg has finally taken a step to cash-in on Facebook, which was once valued at 15 billion dollars.
GEEK SPEAK
Tale of two TVs
Amitpal Singh Grewal
Cable and satellite TV are two television-broadcasting systems that differ in the technologies they use and the benefits they offer. Satellite TV: It is a television system in which television signals are relayed by means of communication satellites. In many parts of the world especially western, satellite TV has successfully replaced terrestrial television systems.
STAR SIGNS


Connected through web
Jasmine Singh
Most people know him as a singer with saccharine sweet voice. While for some he is the dimple cheek, chocolaty hero of the Punjabi film industry. No prizes for guessing, he is Harbhajan Mann. And little did we know he is an ardent ice hockey fan. So, the only way he can update himself on it, when of course he is not abroad is to check the Internet.
Station for animation
Manpriya Khurana
Japheth Alberto Bautista …quite a mouthful! The name could qualify for one of the jargon from the very technical field that he's in and probably compliments the equally technical knowledge he has of it. In city to interact with students of Frameboxx-34, JAP (as he's popularly called), creative director at Frameboxx Animation and Visual Effects, Mumbai, talks about animation, animation and well, animation.

Exploring new streams
Fashion, people, campus, relations, food…it's not often we capture education on these sheets. But then Lifestyle traverses, includes and embraces every aspect of life and the invite of World Education Fair with universities from the very ubiquitous USA, Australia, UK, including the 'relatively unknown' Denmark and Switzerland, seemed 'just right' for experimentation.



— Photo: Pradeep Tewari

LAWN RANGERS
Paan intended
The tricity boasts of many a green patch, from manicured personal garden to lush landscaped lawns. Here, we go up the merry garden path to take a peep into what keeps the city's green fingers busy… The garden of S.S.Sularia, a businessman, in sector 18 is dotted with many a unique plant.


Sularia's patch of green — Photo: Pradeep Tewari

Awadh on a platter
CITCO is organising Awadhi food festival at its flagship hotel, Mountview, from February 6 to 8. The bawarchies and rakabdars of Awadh, by their expertise of blending spices, achieved a high degree of finesse in cooking and presentation of food that took culinary art to the highest realms. This gave birth to the Dum style of cooking or the art of cooking over a slow fire, which has become synonymous with food style of Lucknow.



Hurman chala cricketer ki chaal
Some of the best batsmen find it tough facing Sri Lankan spin wizard Muttiah Muralitharan, but actor Harman Baweja says it was almost a cakewalk thanks to wicketkeeper Kumar Sangakkara. Harman revealed that he and Sangakkara had hit it off well and the wicketkeeper helped him read Muralitharan's confusing bowling during the filming of his latest cricket-based film Victory.



Hurman Baweja
Scripting success
Wasfia Jalali
Having penned down three bestsellers in the last decade, author Chetan Bhagat, who now desires to try his hand at screenplay writing for Bollywood films says he would love to work with young director Imtiaz Ali of Jab We Met fame.


Kalki's French connection
She is born to French parents, speaks with a Tamil accent and makes her debut with Bollywood director Anurag Kashyap's Dev D. Kalki Koechlin says it wasn't easy mouthing Hindi dialogues, but taking tuitions helped improve her diction. "I can speak Tamil and French, but my Hindi is not very good and the language is not easy. I had to work a lot on it for the film. I started taking tutorials for Hindi before the auditions of Dev D," Kalki said.


A still from Dev D
Beri stylish
Dressed as junior versions of a princess, a diva and as little sardars doing the Singh is Kinng signature routine, 70 children scorched the ramp for Ritu Beri's kids collection launched by Bollywood star Akshay Kumar.


Yellow fervour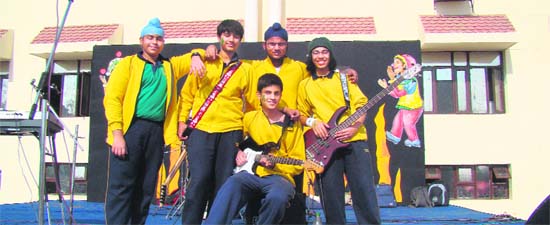 Renegades of Funk, the Vivek High School rock band comprising of Uday Vir Garg, lead guitarist and vocalist, Aseem Bhatti, lead guitarist, Rameet Singh, synthesiser, Tushar Gajwani, bass guitarist, and Japrit Singh on the drums entertained the audience at the Mount Carmel carnival, where a competition of bands was organised recently. Lead bands of the city participated in the competition. Renegades of Funk played Sindbad the Sailor from Rock On!, In My Place by Cold play and their own composition Vodka. They sang Socha Hai on an encore and public demand. RJ Satya from Big Fm 92.7 hosted the show with Paulus and Pankaj of the professional rock band Fire n Ice judging the competition.