Discount phenomenon sweeps stores
Amritsar, February 3
It is apparent that discount phenomenon has gripped almost all the retail apparel stores - major and middle - in the city. Advertisements, billboards and banners announcing rebates, leave the onlookers wondering. The discount being offered was baffling in the range of 50 to 70 per cent.
National Awards
Shamshad Begum and Bhai Nirmal Singh do city proud
Amritsar, February 3
With Shamshad Begum and Hazoori Raagi Bhai Nirmal Singh Khalsa being felicitated with the Padma Bhushan and Padma Shri awards, respectively, there couldn't have been a prouder way for the holy city to kick-start the year.
Waste mgmt plant: Clean hopes float in air
Amritsar, February 3
The solid waste management plant to be established in the holy city of Amritsar has raised hopes among the residents that it may help make the city clean.
Research must for growth: Pani
Amritsar, February 3


The scenario of research in various fields seems to be grim as only 6 to 7 per cent students in the age group of 18 to 23 years enrolled in various institutes of higher education opt for research as a career. However, the zonal and national research conventions programme being organised by the Association of Indian Universities has brought a number of talents forward.
21 research projects presented during Anveshan-2009
Amritsar, February 3
As many as 21 research projects were presented on the second day of the three-day Anveshan-2009 being organised by Association of Indian Universities (AIU) in collaboration with Guru Nanak Dev University here.
Play on Baba Deep Singh staged
Amritsar, February 3
With a view to paying tributes to the 18th century Sikh martyr Baba Deep Singh, whose birth anniversary was observed recently, a play was staged at Guru Nanak Dev University here.
Govinda set to join mega stars' club
Amritsar, February 3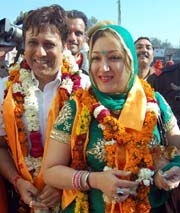 Showing his talent in a number of movies, making the audience to giggle with his comedy, Bollywood star Govinda, with his upcoming six movies, is set to join the rare club of a few mega stars in the holy city. Having already figured in 120 movies, Chi Chi, fondly called at home and by friends, is raring to touch the magic number of 150 movies since his debut in 1986. During his three-day visit to here, he went to the Golden Temple, Jallianwala Bagh and Durgiana Temple and met a cross-section of the Congress leaders and his fans. He said among his upcoming movies, one was directed by Mani Ratnam and another by David Dhawan.
Bollywood star Govinda and his wife come out after paying obeisance at the Durgiana Temple in Amritsar. Photo: Vishal Kumar

Campus buzz
GND varsity for wetlands conservation
Amritsar, February 3
Guru Nanak Dev University, under the aegis of its department of zoology, would celebrate World Wetlands Day on February 4 to generate awareness among the public, particularly among the students, regarding conservation of wetlands.
Space Settlement
Spring Dale school wins design contest
Amritsar, February 3
Spring Dale Senior School won the Asian championship of the fifth Asian Regional Space Settlement Design Competition (ARSSDC) held at Manesar, Gurgaon.
Workshop on female foeticide organised
Amritsar, February 3
Government Nursing College held a workshop on female foeticide here.
Dowry death: Husband, in-laws booked
Amritsar, February 3
The district police today booked Deepak Kumar and his family members, residents of the Chheharta area here, for allegedly burning Madhubala, wife of Deepak, to death for dowry.
APKF's clean-up drive in Galiara
Amritsar, February 3
With a view to providing a clean environment around the Golden Temple complex, activists of the Akal Purkh Ki Fauj (APKF) cleaned the galiara path here.