Gujjar Nagar sans streetlights for months
Jammu, February 3
With the fall of dusk, the Sher-e-Kashmir bridge in Gujjar Nagar plunges into darkness, as the streetlights over the bridge are defunct. This has been making commuting difficult during evening hours. On both sides of the bridge, the streetlights wink at commuters and need immediate replacement or repair.
Defunct streetlight on the Sher-e-Kashmir bridge in Jammu. Photo: Inderjeet Singh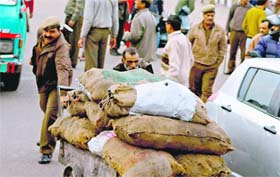 A policeman extends a helping hand to a cart-puller in Jammu. Tribune photo: Anand Sharma
Kashmiri model set to rock music lovers
Jammu, February 3
It is not an easy task to create a niche in the competitive fashion industry, especially for a small town entrant. Most of the dreamers in this category get lost in the oblivion sooner than later. But Barkha Kaul, a Kashmiri girl, who is a top model, TV anchor, DJ and musician, has proved her mettle in the fashion industry with determination and hard work.
Noted writer recalls pre-Independence events
Jammu, February 3
Recipient of Padam Bhushan, Balraj Puri, started his public career as editor of an Urdu weekly in J&K in 1942 and is still active through his writings and work in social and political fields. He has been a regular contributor to major national dailies and academic journals. He is an author and a co-author of 40 books.


Students, faculty beautify school, surroundings
Akhnoor, February 3
Government Higher Secondary School, Narrari Bala in Akhnoor is proud of its lush green environs in a sprawling campus. The students, teachers and villagers of the area have one thing in common, concern for the environment.

Students plant saplings at Government Higher Secondary School, Narrari Bala, Akhnoor. Tribune photo: Anand Sharma

Super cop on track to wipe out terrorism
Batote, February 3
Awarded with the President's Police Medal on this Republic Day, the Deputy Inspector General (DIG) of Police, Doda-Ramban range, Hemant Kumar Lohia, is the brain behind devising a comprehensive anti-militancy policy that has yielded encouraging results in this mountainous belt, earlier considered as the stronghold of terrorists.