Lecturer shoots himself at Dehradun
Dehradun/Kharar, February 5
A lecturer of Doaba Group of Colleges, Kharar, committed suicide at Dehradun today.
No fee for SC/ST students at PU
Chandigarh, February 5
From the next academic session, students belonging to the Schedule Caste/Scheduled Tribe (SC/ST) category can just walk in and get admission to Panjab University without paying any fee.
Admn seeks cut in radio taxi fares
Feb 10, 16 strike to hit patients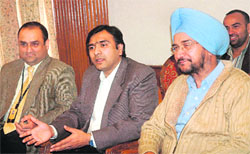 Chandigarh, February 5
Faced with the directive of the UT administration to bring down the fares for availing radio taxi facility in view of the diesel prices coming down, the radio taxi operators toughened their stance and threatened to take their cars off the road, if the move is not taken back, here today.
From left: Vijay Raina of Easy Cabs, Manish Dhariwal of Mega Cabs and VS Dhillon of Indus Cabs address mediapersons in Chandigarh on Thursday. A Tribune photograph
Denial of certificate miffs Dalit leaders
Chandigarh, February 5
The National Conference of Dalit Organisations (NACDOR) has condemned the denial of issuance of SC certificates to some children by Sub-Divisional Magistrate concerned in spite of orders by the Deputy Commissioner.
Rehri markets virtual firetraps


Chandigarh, February 5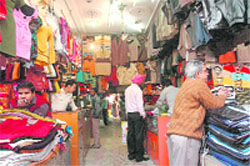 With barely some space to move about in the corridors and with encroachment galore, rehri markets in the city are proving to be virtually death traps in case of immediate fire. Notwithstanding the fact that devastating fire has destroyed rehri markets a number of times in past few years, most of these markets still continue to overlook fire safety norms.
One of the corridors in the rehri market, Sector 19, where shopkeepers have encroached upon the passage. Tribune photo: Parvesh Chauhan
Finally, Rs 3-cr grant reaches Mohali MC

Mohali, February 5
The Mohali municipal council has finally received the Rs 3-crore grant amount given by the Punjab government for the development of the town.



A draft for Rs 3 crore being handed over to MC officials in Mohali on Thursday. A Tribune photograph
HUDA to approve compounding fee by post
Panchkula, February 5
In an effort to bring transparency and relieve the public from harassment at its office, HUDA, has decided to inform the applicants of completion certificate about the approval of compounding fee by post only.
Encroachers eye urban land in Haryana
Panchkula, February 5
The lack of coordination between the enforcement department of the Haryana Urban Development Authority and the Panchkula municipal council has not only led to the encroachments at over 100 acres of prime land here, it even left the land reclaimed by the enforcement staff of HUDA exposed to the threat of encroachments.
Encroachers make hay ahead of LS polls
Chandigarh, February 5
With the Lok Sabha elections around the corner, the encroachers are having a field day in the city, under the alleged patronage politicians cutting across party lines. This is likely to emerge as a serious headache for the law enforcement agencies in the run-up to the elections.
691 voters' cards found dumped
Dera Bassi, February 5
As many as 691 voter identity cards were found in an open sewer near Sukhmani Institute in Dera Bassi here today.
Mayor reviews projects
Chandigarh, February 5
Kamlesh, Mayor Municipal Corporation, Chandigarh, today held first review committee meeting with all the councillors and officers of the corporation regarding developmental works.
GMADA Auction
Anomaly in number of flats
Mohali, February 5
While finalising the details before holding the draw of lots for the third phase of plots in Sectors 76 to 80, the Greater Mohali Area Development Authority (GMADA) has found that it does not have adequate number of 100 sq yard plots reserved for the oustees under the housing scheme.
Speed governors mandatory from March 21
Chandigarh, February 5
The Chandigarh Administration, through a notification issued here today, made the installation of speed governors (conforming to the Standard AIS:018, as amended from time to time) by the Chandigarh Transport Undertaking (CTU) in its buses and by the operators of all school buses mandatory.
Alka Yagnik to perform in Rose Festival
Chandigarh, February 5
Bollywood singer Alka Yagnik, actress-turned-singer Sanobar Kabir, and Punjabi singer Labh Janjua will be performing in the three-day Rose Festival commencing from February 20. This was stated at a meeting held today under the chairmanship of home secretary Ram Niwas.
National folk dance fest from today
Mohali, February 5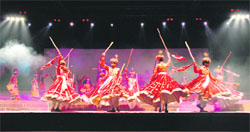 The cultural face of the country would emerge at the three-day National Folk Dance Festival 2009 beginning here from tomorrow. The event, being held for the first time outside Delhi, would see participation by 500 artistes drawn from various states, said DS Saroya, director, North Zone Cultural Centre (NZCC), Patiala, while addressing a pre-event conference here today.
A full-dress rehearsal for the national folk dance festival that begins on Friday in Mohali. Tribune photo: Vicky Gharu
Tributes paid to Dr Randhawa
Mohali, February 5
Dr MS Randhawa memorial lecture on "A passionate promoter of architecture and architects" was the highlight of the 100th Dr MS Randhawa birth anniversary celebrations at Indo Global College of Architecture at Ahbipur, about 20 km from here.
Letters
Parking blues


Education dept to hire new counsellors
Chandigarh, February 5
With exams round the corner, the UT education department, seems to be geared up for a fresh 'counsellor hunt' to combat the existing shortage, thereby forgetting about 14 prospective counsellors 'nurtured' by it last year.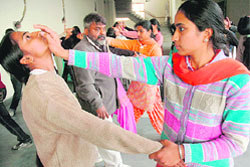 Sonsoi Rajiv Sinha, president of the Traditional Karate Federation of India, gives tips of martial arts to students of Government College, Sector 46, Chandigarh, on Thursday. Tribune photo: Parvesh Chauhan
Tribune Impact
PU cancels student's admission
Chandigarh, February 5
Panjab University authorities today cancelled the admission of Jaswinder Singh (Jassi) in the law department of the university this year, as he had been disqualified for two years under unfair mean case (UMC) registered against him last year. The decision was taken in the meeting of the board of controller, which met here today. It was decided to cancel the admission of Jaswinder and a forgery case may be registered against him soon.
Jimmy Shergill enthralls MCM girls
Chandigarh, February 5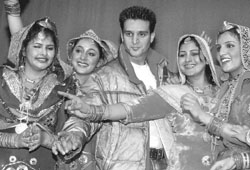 Students of MCM DAV, Sector 36, were enthralled by the presence of Jimmy Shergill amongst them today evening. The cine star apprised the girls of the opportunities and the struggle involved to make a name in the film industry.





Jimmy Shergill in MCM DAV College. Tribune Photo: Vinay Malik
Law students seek more facilities, go on strike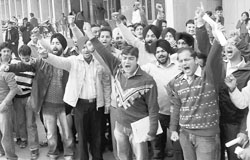 Chandigarh, February 5
Students of Institute of Legal Studies, Panjab University, went on an indefinite strike till the authorities conceded their genuine demands that have been pending for a long time.




Students of department of legal studies of Panjab University stage a protest in Chandigarh on Thursday. Tribune Photo: Parvesh Chauhan