26/11 attackers 'ISI creation': India
Ashok Tuteja
Tribune News Service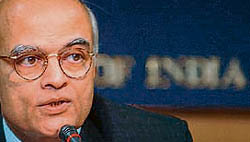 Shiv Shankar Menon, Foreign Secretary
New Delhi, February 5
Launching a blistering attack on Pakistan for its failure to contain terrorism emanating from its soil, India today asked the international community to stop supplying arms to Pakistan in the larger interest of peace in the region.
"Arms sales to Pakistan totally unrelated to the fight against terrorism or extremism are like whiskey to an alcoholic, a drug reinforcing an addiction, skewing the internal political balance, and making the consolidation of democracy more difficult,'' Foreign Secretary Shiv Shankar Menon told Institut Francais des Relations Internationals (IFRI), a leading French think tank, in Paris.
With Islamabad yet to respond to the Indian dossier on the 26/11 Mumbai terror attacks, the foreign secretary told the audience that it was absolutely clear that the strikes were planned and launched from Pakistan and underlined that the organisers were "creations of the ISI".
"For India, a stable Pakistan at peace with itself is a desirable goal. We need a peaceful periphery in our own interest, and will work with all those in Pakistan and the international community who further that goal," Menon said in his speech, the text of which was made available here by the External Affairs Ministry.
"Given the fragile and unfinished nature of the polity beside us, there is much that the international community can do to help," Menon said while underscoring that "the epicenter of international terrorism" lay in Pakistan.
"Those responsible for the Mumbai attacks follow an ideology that recognises no borders, and are known to be preparing attacks not only just in the neighbourhood but across the world," he stressed.
Menon is in Paris for annual foreign office consultations between the two countries, official sources said here. Menon held talks with diplomatic adviser to French President Jean-David Levitte and senior French diplomats on a host of bilateral and global issues.
In New Delhi, Home Minister P Chidambaram reiterated that India had not received any response from Pakistan to the dossier on the Mumbai attacks, contradicting National security Adviser MK Narayanan who had claimed in a television news channel that Islamabad had reverted to New Delhi with a number of questions on the Indian dossier.
"There is no confusion…both the external affairs minister and I have said we had not received any response to the dossier given to Pakistan as yet,'' he told reporters. When reminded of his statement sometime ago on the possibility of snapping ties with Pakistan, Chidambaram said he had been misquoted. "What I had said was that there are many ties between India and Pakistan. If Pakistan does not respond (to the dossier), these may get weaker and weaker and may one day snap. It is a thought and not a policy statement.''