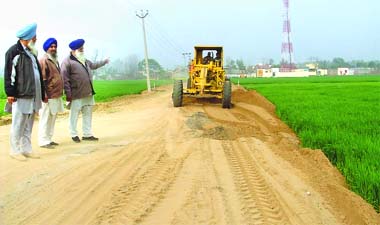 Road of Hope
Work on Laddowal bypass restarts

Farmers have reason to believe their land adjacent to the road will turn to gold

New road will make commuting to Phillaur and Jalandhar convenient
THINGS never looked better for farmer Mahinder Singh Grewal, who owns land in Balloke village near Ludhiana. His land, like that of many others, falls on either side of the Laddowal bypass road. As work on the project has revived, farmers are hoping that the bypass would put them on the road to fortune.
TREND MILL
Hug Wood!
Be it ceilings, walls, floors, furniture or curtain rods, timber is ruling over the hearts of homebuilders & design experts. Wood is good, finds Saurabh Malik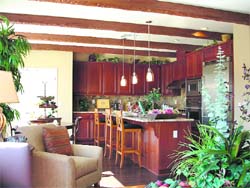 RELUCTANT to pass your days in a concrete jungle with thick undergrowth of lofty buildings all around, you want to give your house a natural look. So naturally you have tried to pave way for the desired effect by replacing cement flooring on the driveway with minuscule mountain-slate tiles ó like they have in some of the five star hotels, Taj Chandi-garh included. Even the outer walls and the veranda pillars wear a new style with glossy stone tiles plastered on the surface nicely and properly.
GROUND REALTY
Bright & beautiful
While concentrating on aesthetics, donít give safety a miss. Use good quality, appropriate wires to protect your home from current leakage, short-circuit & fire
SUCH has to be the electric wiring of your house that no wire should ever burn inside a conduit even if excessive current is passed. Further, no fear of a short circuit should prevail in your mind. Lighting work should rather enhance your lifestyle and uplift your spirits. Continuing with tips on shock proof and short-circuit proof electrical wiring of your house, here are a few more useful guidelines.
Fairy garden
FOR your garden and its fountain, use light emitting diodes (LEDs). These can change colour and brightness to limitless tones. Sky blue, red, amber and milky white colours really look attractive. When used with semi transparent acrylic sheets, these lights create great ambience. Use them in portico and even under the outer staircase.
SEZ norms to be tightened
SEZ would be notified only once the infrastructure is ready
THE Union Govern-ment has decided to tighten norms for special economic zones (SEZs) to weed out non-serious players. SEZ developers will now get in-principle approvals only when the state where the project is coming up clears the same. The developer would get a formal approval after land is acquired but the SEZ would be notified only once the infrastructure is ready.
Tax tips
Time matters: Use land-sale money to buy house
Q. My father is a retired employee of a semi-government corporation and owns some agricultural land out of municipal limits. At present, the land is cultivated by his brothers and he does not get any income from his brothers out of natural love. Now, he intends to sell this land to invest either in construction of first floor on his single story house located in an urban estate or to buy a new residential urban property. My queries are as follows: