Going Green
After the success of the Green Revolution and its accompanying lessons, the Punjab farmer is waking up to the benefits of organic farming, reports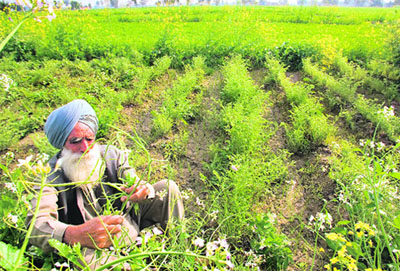 Jangveer Singh
In Punjab, the 'food bowl' of India, where a high yield has always been the main pursuit of farmers, organic farming has never been a preferred option because of low output.
A farmer working in a field of organic crops. More than one crop is normally planted in a single field. Photos Kamal Kishore

A bank to bank upon

Jeevamrit — organic to the core
Friendly does not mean flirty
Don't take flirtatious women for granted. They may not be be interested in you at all but are just being friendly, says a new study. People of both sexes looking for romance are quite good at reading the male's interest, but equally bad at misjudging the female's interest. "The hardest-to-read women were being misperceived at a much higher rate than the hardest-to-read men. Those women were being flirtatious, but it turned out they weren't interested at all," said study co-author Skyler Place.