Miss to... Mrs India arriving
Everytime we walk down the ramp together, memories of the Miss India contest come alive," say all three winners of the Miss India-2008. In the past 10 months, Simran Mundi, Parvathy Omanakuttan and Tanvi Vyas have sashayed the ramp together almost a dozen times and now that is what they want.
And you thought marriage means a full stop to all desires, secret 'ambitions' you ever had? The most common amongst the women — a walk down the ramp in a sexy gown, throwing kisses at the audience, flashing a 1000-watt smile at all and sundry, posing for umpteen camera angles.
Going for the kill
It was in the late 90s that the music scene in India evolved considerably. In came, the Indi pop bands and induced the much-needed zing to our music industry. Please pay them gratitude for introducing us to a new genre, even though it was not so melodious 'melodies'. "My pleasure," the acceptance of the fact came readily from someone who too contributed to the Indi-pop culture then.


Dance like an Egyptian
Within the manifolds of its dark, mysterious and fascinating history, Egypt is not less than an enchanted experience. The land of mummies and pharaohs, Egypt has mummified its traditions too. Whether it's the pyramids, the tombs that still spell out stories from the past or the most vibrant part of its culture, dancing, Egyptians have preserved their traditional tonality. Photo: Pradeep Tewari

Spacial effects
In an endeavour to make the Valentine season more exotic, Blossom Kochhar, today introduced her signature 'chocolate, coffee and rose' treatments for the season. Addressing the media on Friday, Kochhar gave tips on the latest trends in hair and make-up thereby ensuring that the clients who visit her Day Spa would get a complete rejuvenating package.



Rasoi ragaa
Tunda meets tikka
What does a dental dilemma have to do with culinary evolution? Well, everything, if this tasty tale of innovation is to be believed. The aged nawabs of Avadh were famous for indulging their taste buds but posed a peculiar challenge to the khansamas: to toss up delicacies that these orthodontically challenged gourmets could chew.



Daawat and décor

: A traditional Avadhi ambience has been recreated for the food fest Photo: Pradeep Tewari

Bon Appetit
A spoonful of soup
This famous poem can stir all of the senses. Perhaps you too will stir from your couch and stir up a pot of wholesome hot soup? For centuries, soup has been the first course of a special dinner and the last resort of weary providers with a bag of tired old vegetables and a bunch of grimy, hungry children.
LAUNCH PAD
Fancy footwear
For nearly a century and a half, Levis jeans have been woven into the very fabric of fashion and culture. The company, moving forward has now launched its internationally acclaimed 'Urbane Range' of footwear in the Indian Market.


No racism please!
For the detractors of Slumdog Millionaire, who suggest that the Mumbai-based film featuring Indian actors would not have received half the acclaim it has had the director been an Indian, Bollywood superstar Anil Kapoor has simple advice: "Grow up." "It's a very racist statement to make (that if a Westerner had not made it, it would not have been such a sensation)," he said. "We are living in the 21st century.

High-flier
The much-awaited Hrithik Roshan-starrer Kites, in which he will be rubbing shoulders with Mexican actress Barbara Mori, will be released on Diwali this year. The worldwide marketing and distribution for the film, the most ambitious project yet of Rakesh Roshana's Filmkraft, have been acquired by Big Pictures, the Motion Pictures Brand of Reliance Big Entertainment. The romantic thriller is being directed by Anurag Basu and features Kangana Ranaut, Nick Brown and Kabir Bedi.


Dream team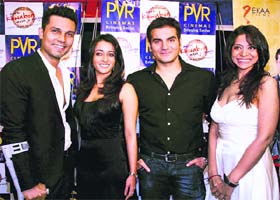 Actors Randeep Hooda, Raima Sen and Arbaaz Khan with diector Madhureeta Anand strike a pose at the premiere of the film Mere Khwabon Mein Jo Aaye in Mumbai on Thursday night.
Bees saal baad
Sanu who had very recently received a Padmashri said he considers the award an honour. "I am happy at receiving the award but it should have come earlier. I had been waiting for the past 20 years for a recognition like this. I have received plenty of awards from around the world, but this one is special."
Mystery continues
Bouyed by the success of Raaz-The Mystery Continues, producers Vishesh Films have decided to begin work on the third edition of Raaz. "Raaz 3 will feature new actors and a fresh story. It will be an international collaboration for production and technical support.
Titanic honour
Dame Judi Dench and Leonardo DiCaprio are among the few stars who have been selected to be inducted into a new Hall Of Fame dedicated to William Shakespeare. The hall honours the performers, directors and artistes inspired by the great dramatist's body of work.


Private hope
American singer Jessica Simpson's latest movie Private Valentine: Blonde & Dangerous has just gone on sale on Amazon.com. Simpson was hopeful the comedy, which had been financed by her father's production company, Papa Joe Films, would be a hit, according to reports.

No wedding bells
Nick Carter, the former Backstreet Boys singer whose parents got divorced in 2003, is planning to stay away from married life. Carter said he saw his parents fight throughout his childhood and is still traumatised by how he and his siblings were dragged into the fights.
Biwi no. 1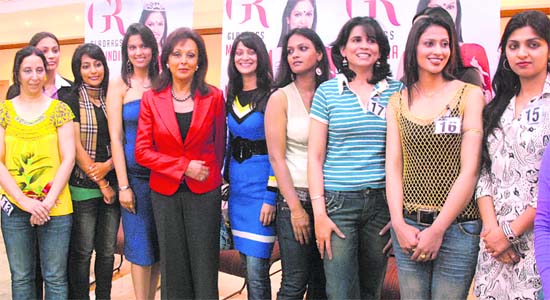 Tricity contestants of Gladrags Mrs India 2009, along with Maureen Wadia, strike a pose for the shutterbugs at Hotel Mountview-10 Lifestyle photo: Pradeep Tewari