First superstar singer
M. L. Dhawan recalls the contribution of Shamshad Begum, who was recently
awarded the Padma Bhushan

Shamshad Begum, the first superstar female playback singer, who has been honoured with the coveted Padma Bhushan award recently for contribution to the growth of Hindi film music, was spotted by composer Ghulam Haider when she was singing devotional songs on AIR, Lahore, in 1937. He gave her a break as a playback singer in a few of his Punjabi films. In Khazanchi (1941) Shamshad Begum's free flowing voice helped him create a sprightly vibrant kind of music. All nine songs sung by Shamshad were a resounding success. Songs like 'Sawan ke nazare hain', 'Ek kali nazon ki pali', 'Man dheere dheere rona', etc turned her celebrity crooner. Later, her songs Chowdhary, Khandaan and Panna proved that her initial success was no fluke.

Shamshad Begum and Lata Mangeshkar rendered Mughal-e-Azam's famous qawwali 'Teri mehfil mein kismat aazma kar hum bhee dekhengey'

In 1943, Naushad invited her to Bombay to sing for upcoming Taqdeer, Nargis' debut film. Her songs for Nargis 'Badle jo zamane ko taqdeer hamari', 'O janewale aa', etc catapulted her to the heights of glory.
With rising popularity, Shamshad slowly inched ahead of her contemporaries like Ameerbai Karnataki, Zohrabai Ambalawali, Raj Kumari, Uma Shashi etc, who had sweeter, more rounded vocals and were classically trained. But they were no match for Shamshad's spirit of abandon. Listeners took to Shamshad's full-throated voice, her clear diction, and her ability to pack her singing with feelings and emotions.
Of course, there were other equally talented singers but Shamshad held her own. Despite inadequate recording facilities of that era, Shamshad ruled the hearts of music lovers.
Under the baton of Naushad in Anmol Ghadi (1946) duet 'Udan khatole pe ud jaaoon, tere haath na aaoon' with Zohra, Shamshad made her presence felt in spite of singers like Noorjehan and Suraiya dominating the scene.
Under the guidance of her mentors Naushad and Ghulam Haider, she gained superstardom. Bewitched by what Naushad called 'transparency', he dumped Zohrabai who had given him his career-making hit 'Ankhiyan mila ke jiya bharma ke chale nahin jana' without any qualm and made Shamshad his lead singer. And what an array of soul-stirring songs Shamshad sang for him —'Dharti ko aakash pukare', 'Chhod babul ka ghar', 'Dar na mohabbat kar le', 'Kaise baje dil ke tar', 'Chaman main reh ki veerana mera dil hota jata hai', 'Door koi gaye', 'Pee ke ghar aaj pyari dulhaniya chali', 'Teri mehfil mein kismat aazma kar hum bhee dekhengey', etc.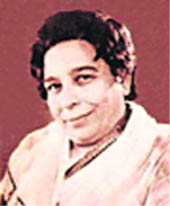 Shamshad Begum

Of all her songs for Naushad, one could pick up 'Duniyan badal gayee meri duniyan badal gayee...' as representative of how much she had evolved as a serious singer. In the song Naushad moderates the sharp edges of her voice and makes it sound sweet and tragic.
Little did Shamshad know that the song's words would prove prophetic as Naushad, by that time, was already besotted with the mesmerising vocals of an emerging singer Lata Mangeshkar on the music scene.. Babul (1950) in which she sang the prophetic 'Duniya badal gayee...' with Talat Mahmood was her last film with Naushad as a lead singer.
Shamshad Begum remained around throughout the 1950s, seeing all composers, including C. Ramchandra and Madan Mohan, whom she had helped kick-start their careers, sideline her and go for Lata Mangeshkar. She gallantly tried to ward off the Lata onslaught even going to the extent of learning classical singing at that late stage but had to be content with some stray songs that came her way from O.P. Nayyar and Naushad.
O.P. Nayyar used Shamshad's famed abandon to good effect in many songs such as 'Kabhi aar kabhi paar, laga teer-e-nazar, 'Boojh mera kya naam re', 'Leke pehla pehla pyar'.
But Shamshad knew quite well that Nayyar preferred Asha Bhonsle and Geeta Dutt for the sultry-sexy effect they could bring to his creations.
After some 20 years of singing for films, Shamshad realised that with the increase of violence and vulgarity in films, trends in music had changed and newer singers had a grip on the industry. The composers relegated her voice to less important numbers. She was so much behind the curve that she did not know her voice would be used for Nigar Sultana while young Lata's voice would be given to Madhubala in Mughal-e-Azam (Teri mehfil mein kismat aazma kar hum bhee dekhengey..).
Like many others before her, Shamshad, too, faded away. She came back just once with a flash of spirit to render the tangy 'Kajra mohabbat wala..' with Asha Bhonsle for Nayyar's Kismat (1968). For all practical purposes, it became her swansong.
For the music lovers of the present generation, whose idea of the perfect voice is Lata Mangeshkar, Shamshad Begum is but a name, familiar perhaps because of the remix versions of many of her racy numbers. Yet Shamshad was the first superstar female playback singer, who much before Lata, had entered the fray, and had composers vying for her dates. They were willing to pay her an astronomical Rs 1,000 per song as against Rs 50, which Lata charged in the late 1940s.
The Padma Bhushan award salutes her musical prowess. She has been awarded because she in-spired composers to rise to creative heights and did so much creative work in spite of inadequate recording methods. While assessing Shamshad as a singer one must not lose sight of the fact that she came at a time when the recording techniques were in their primitive stage. Unlike the later day singers, she was not aided by the machine to prove herself.