Shatabdi Express incurs heavy losses
Kalka, February 9
The New Delhi-Kalka Shatabdi Express is causing heavy loses to the railway department.
Memo seeks clearance of revival package
Kalka, February 9
A delegation of HMT officers' association, Karmik Sangh comprising KS Yadav, LD Sharma, Mahinder Singh and Pushpinder Singh recently met Pawan Kumar Bansal, the Minister of State for Finance, Govt of India.
Ravidas Jayanti celebrated
Kalka, February 9
Guru Ravidas Jayanti was celebrated in Kalka, Pinjore, and its vicinity with religious fervour.
Rs 10-lakh fraud detected
Ambala, February 9
A fraud to the tune of over Rs 10 lakh in the pensioners' fund has been detected in the Central Bank of India, Mahesh Nagar, Ambala Cantt branch.
3 detained for creating nuisance in town
Anandpur Sahib, February 9
The Ropar police today held three youths who were creating nuisance in the town since morning.
SDM raids brick-kiln
Lalru, February 9
The SDM, Dera Bassi, today raided a brick-kiln located in Malakpur village at Lalru for rescuing bonded labourers, but no labour was found from the spot. The raid was conducted on Monday morning by a team headed by Puneet Goyal, SDM Dera Bassi, including labour inspector Sunil.
3 booked for attacking Colonel
Dera Bassi, February 9
The police today registered a case of assault on a complaint of Colonel Ajit Singh (retd) against three persons. The suspects were still absconding.


High court's ruling on 'suit pending'
Chandigarh, February 9
A Division Bench of the Punjab and Haryana High Court has held the principles of lis pendens — Latin for "suit pending" — would apply in respect of transfers and alienations effected after the filing of special leave petition and before leave to appeal has been granted.
CAT relief for assistant accounts officer
Chandigarh, February 9
Central Administrative Tribunal directed the Comptroller and Auditor General of India to exercise his powers of relaxing rules and considered the case of medical reimbursement of an applicant wherein he was hospitalised as he had suffered from a heart attack due to misbehavior of a colleague.


Rs 22,000 stolen from car
Chandigarh, February 9
Anil Kumar of Kalayat in Haryana reported to the police alleging that Rs 22,000, ATM card and other articles were stolen from his car parked outside Ravidas Bhawan in Sector 20 this afternoon.
Mohali resident held with stolen motor cycle
Chandigarh, February 9
The police has arrested a Mohali resident and recovered a stolen motorcycle from his possession after a couple of hours it was stolen from Sector 51, last night.
Engineer killed in mishap
Chandigarh, February 9
A 25-year-old engineer, Amandeep Singh, was killed while his friend was seriously hurt when the motorcycle they were riding rammed into a rotary near Hotel Southend last night.
Panchayat member commits suicide
Chandigarh, February 9
A panchayat member of Behlana village, Archana, reportedly committed suicide by hanging herself at her residence today morning.


DAV-15 trounce DAV-8 by six wickets
Chandigarh, February 9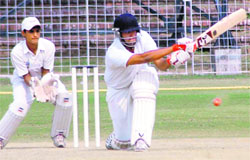 DAV-15 edged past DAV-8 by six wickets on the 5th day of the Inter-School Cricket Tournament for boys under-19 for Adviser's Cup being played at the cricket stadium Sector-16, here today.





A cricket match in progress at Sector-16 Stadium in Chandigarh on Monday. A Tribune photograph
Team can improve further: Harender
Chandigarh, February 9
Even after losing the final of the Punjab Gold Cup by the narrowest of margins, Indian coach-in-charge Harender Singh could see a silver lining as he said that he had set reaching the final as his team's primary target. "I had set the target of reaching in the final for my team and it wasn't a one-sided encounter. We gave a tough fight to the European championships and that says a lot about the potential of this team," said the coach. "It was about grabbing a chance at the last moment and in today's match they did it. I salute their team for that," he added.
SBoP clinch Ashok cricket cup
Chandigarh, February 9
The State Bank of Patiala (SBoP) team won the 1st Ashok Memorial Corporate Cricket Cup by defeating the HDFC Bank in the final match played at SD Senior Secondary School in Sector 32 here yesterday.
Hockey skipper's family faces financial crunch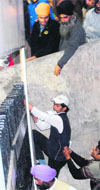 Chandigarh, February 9
It is unfortunate for our country as family of Indian hockey skipper Sandeep Singh, which has four Asian hockey gold medals to his credit, is forced to reel under financial constraints and is still putting up in a rented accommodation.

On one side where the Indian hockey skipper in the field is showing a ray of hope of bringing back the lost pride while on the other his family is finding it hard to afford his game. Gurcharan Singh, Sandeep's father, who has given all his efforts to make his son a star after getting a setback from his business is forced to ponder upon Sandeep's game as it requires a lot of money to afford diet and practice.
A hockey lover tries to enter the stadium on Monday.



Indian hockey team members after the final match on Monday (left)Holand players perform bhangra after winning the Punjab Gold Cup Hockey; and . Photos: Pradeep Tewari

Ratia wins ladies' medal round
Chandigarh, February 9
S. Ratia played a nett 69 card to cinch the Kingfisher Medal Round in the gold and silver division of the ladies section golf tournament at the Chandigarh Golf Club here today.