Ambassadors of goodwill
This group from the US plans to take back a slice of true India and guess what, lots of bangles
Transformation is the word to describe this five-member team of group study exchange of the Rotary Foundation of Rotary International. In the city for a four-week visit, these young professionals, Ryan Walker, Alicia Netterville, Sarah Harris and Julie Skipper along with their leader Hal Morgan, are full of ideas, ready to make a difference and build bridges of goodwill.

On record
Technology is changing life in all spheres, including our communication patterns
Let me take you to the world of fairytales and let us live a fantasy together. Once upon a time, you were in your office. You wanted to ask a question to your colleague sitting on the same floor.



Mixed singles
Software, turntables or phenyl records, we check out what the DJ's rely on to whip up foot-tapping music at discs
Mehak and her friends had a great time at the disc as they danced on one rocking number to another. Oh! They had one helluva of time, dancing non-stop. It was while coming out of the disc, Mehak asked her friend.



Zip zap zoom
Windows Vista can be made faster
Windows 7 with its commendable performance improvements may be on the horizon. But for now, most of us have to live with Windows Vista, which can make even the fastest computer seem slow. But you don't have to put up with Vista's sluggishness without a fight. In fact, most of what ails Vista when it comes to performance can be remedied by adjusting some settings and eliminating some features.



Click & send
An online solution called jackandgill to help you send flowers across the globe
Busy as usual. Caught up in the same 9 to 10 grind. Not even single a minute to stop at the florist to order flowers for your parents' anniversary. How you wished a fairy angel or a 'friend in need' could come to your rescue. And till the time the possibility works out, Nitin Vyas and his friend Vishal Baptish offer a ready- made or need we say an online solution called www.jackandgill.com.


Bitter pill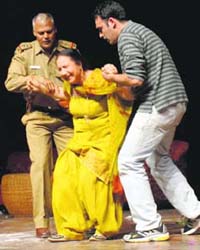 Meetha Zehar, a play by doctors of the National Integrated Medical Association at Tagore Theatre on Sunday, was an insider's take on drug abuse Lifestyle photo: Pradeep Tewari
Cheers to health
Health Expo-2009 brings customised medical services
Stress, tensions, anxiety and what not try to bog us down in a day. We find these lifestyle monsters subjugating us every morning as soon as we wake up from a good night sleep. Till late night they crush us under agonising pressure of hectic schedules not before leaving us with after effects.
Recession blues
The global meltdown has hit student festivities too
By now everyone, who is identified as a global citizen, is aware and affected by the recession, the big economy blues striking us in the bell. And when everybody from MNCs to the common man is struggling for survival, the student community is taking blows from all sides.
SPADE WORK
Full bloom
Come February and hundreds of the gardeners, both home gardeners and those working in institutes are on their toes. Yes, this is garden competition time. In this city of gardens, it is a serious business to be one up whether it is the competition for the whole garden or producing prize blooms.


Bowled over
Bollywood film not exactly my idea of a screen debut: Graeme Smith
Being repeatedly hit for a six by actor Harman Baweja in the film Victory was not exactly his idea of a debut in the movies, South African cricket captain Graeme Smith said here as the movie continues to draw crowds to the box office in its third week.

A still from Victory
Yogaholic
If I don't do yoga for a day I feel something is amiss. I don't believe in slogging out in a gym or running on a treadmill because gyms are full of AC's. One hour of yoga is enough," Kareena quips. "People are bored of me I am continuously asking them to stop taking meat and protect our animals," she says elaborating about the benefits of eating healthy.


Sisterly act
Actress Nicole Kidman is considering turning her hideaway in a New South Wales (NSW) village into a horse riding refuge for her sister Antonia and her four kids. Lavish renovations to the 6.5 million dollars homestead in the Southern Highlands region are revealed in council documents which show plans for a pool, tennis court, sandstone gym and entertainment centre. However, insiders say the heart of the 45ha colonial estate, known as Bunya Hill, will be the stables.

Good news?
Rumours are abuzz that the reason behind Jessica Simpson's sudden 'weight gain' is pregnancy. According to pals, the sexy actress and singer might be expecting a child with her boyfriend, Dallas Cowboys hunk Tony Romo, 28. "She hasn't been packing on the pounds because she's over-eating," said a friend. "The big rumour from her inner circle is that a baby could be the reason she's carrying some added weight," the friend added.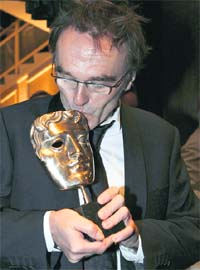 British director Danny Boyle kisses his Best Director award for the film Slumdog Millionaire at the British Academy Film Awards 2009 London. Photo: PTI
Million-dollar deal
Oscar-nominee Eddie Murphy has reported clinched a multi-million pound child support package deal with former 'Spice Girl' Mel B, ending their bitter legal battle. As per the settlement, Murphy will pay 35,000 pounds a month until their daughter, Iris Angel, turns 18.
Born to win
The Healthy Baby Show at the ongoing International Health Expo being held at the Exhibition Grounds of Sector 34-A drew huge crowds. The contest was in four categories. The winners in 6 months to one year category are Dhairya Singh, Yorick and Anmol Jannat Sarwal.
Aniston and a lost dog
Hollywood actor Jennifer Aniston has praised paparazzi, after they helped her rescue a stray dog. The actor said: "I had this moment of going, 'Oh come on, this is a lost dog; why don't you help out and go and find the owner?' - and he actually did." — IANS