As you sow, so you reap!
Farming is no longer the preserve of the simple, uneducated farmer. It is becoming a specialised professional activity but you have to love the fields and be prepared to stay far from the fast urban world. Best of all, it is recession-proof!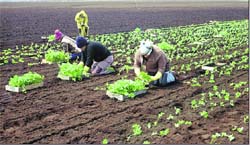 AT a time when jobs are declining in practically every sector, agriculture continues to be the mainstay of the Indian economy. It is the source not only of food, but also of raw materials to the manufacturing sector. While the farmer cultivates land and grows plants, industries process, distribute, or transport farm products and farm supplies. Scientists applying the principles of biochemistry, genetics or microbiology provide the technological support for the development of new and high-yielding varieties of agricultural products to feed, clothe and house a growing population.
COURSE CHAT
Course to meet challenges of climate change
A NEW postgraduate course will be introduced in all agricultural universities of the country from the next academic session. This course will enable the students to deal efficiently with the challenges of climate change and decreasing productivity in agriculture sector, J.C. Katyal, vice-chancellor of Charan Singh Haryana Agricultural University, Hisar, said.
Career Hotline
Bridging life sciences & engineering
Q. Could you please tell me something about a career in biomedical engineering?—Lalita Mohan
Office Mantra
Make your way to the TOP
New on the job? Remember, your every action & gesture is being watched. This is the time to play your cards well and create a lasting good impression. So get cracking!
AS jobs get increasingly difficult to land amidst the slowdown and stiff competition, there is an even greater need to value them. When you start working or pick up a new job, you need to be meticulous and cautious. Know the rules and regulations, the culture, co-workers, seniors, subordinates and managers in the organisation as certain things are expected of you.
Careercature
Sandeep Joshi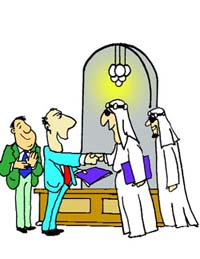 Now you take 3,000 metric tonnes of potatoes. We can also give you 3,000 farmers!

Teachers wanted, must like pristine beaches
Stroll along Maldives' beaches every weekend & get paid!
THERE will be some who may actually prefer to be marking the class five geography project on a slate-grey winter afternoon, but officials in the Maldives are hoping there may be a few teachers across the world who can be tempted by palm-fringed atolls and unspoilt beaches. This week, the government of the beautiful archipelago will begin advertising teaching jobs in paradise.
Meltdown bypasses IIM-Shillong
Youngest IIM boasts 100 per cent placement in winter internships
THE global meltdown seems to have spared the country's youngest Indian Institute of Management in Shillong, with the maiden batch of the institute's students registering cent per cent placement in its winter internships.
As public sector enterprises continue hiring, job seekers make a beeline
Now, everyone wants a PSU job
THE economic slowdown has turned the country's employable pool in favour of public sector undertakings. Despite the market, the hiring tempo of public sector banks has not come down at all. Expectedly, the banks are seeing a change in the caliber of talent keen to join as more and more people from the private sector -- mainly IT – are applying for jobs.