Geo TV says Kasab booked; Pak denies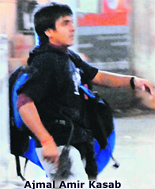 Islamabad, February 11
Confusion today prevailed over reports that Pakistani authorities have filed a case against Ajmal Amir Kasab, the lone terrorist captured alive during the Mumbai attacks, and 12 others in connection with the terror strikes but the government denied it soon afterwards.
Geo News Channel said the case was filed under the Anti-Terrorism Act and registered at the Dockyard Police Station in Karachi.
It also said among the others named in the case were three persons who were arrested in Karachi. Nine more persons had been identified but were yet to be taken into custody, the channel reported.
TV channels quoted unidentified sources as saying that the case was registered on the basis of the probe conducted by the Federal Investigation Agency (FIA) and the decision made by the defence committee of the cabinet during its meeting on Monday.
During the meeting, the defence committee decided to register a case and conduct further investigations to bring the perpetrators of the Mumbai attacks to justice according to Pakistan laws.
The meeting, which was chaired by Prime Minister Yousuf Raza Gilani, said it would be "exceedingly difficult to complete the investigation and proceed with the case" without "substantial evidence" from India. It also decided to send further queries to Indian authorities.
However, later Dawn News channel reported quoting Interior Ministry Chief Rahman Malik as denying that any case was filed by FIA against anyone in connection with the Mumbai attacks.
It quoted Malik as saying that Prime Minister Yousuf Raza Gilani has already said that the nation will be taken into confidence regarding any decision on the matter. The media should not speculate, he was quoted as saying.
Legal experts said Pakistan would need the cooperation of Indian authorities to proceed with the case and bring it to court. Pakistani authorities might also need to seek access to Indian witnesses to proceed with the case, they said. — PTI