M A I N N E W S
Aero India-2009 takes off
Four companies showcase their fighter aircraft
Ajay Banerjee and Shubhadeep Chaudhary
Tribune News Service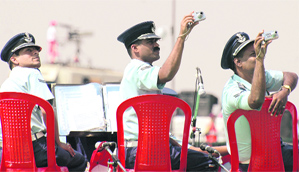 IAF personnel take photographs during the inauguration of Aero India-2009 at the Yelahanka Air Force Station in Bangalore on Wednesday. Tribune photo: Mukesh Aggarwal

Bangalore, February 11
Even as the comparative analysis for India's next generation of fighter aircraft is more than two months away, four of six players in the race to sell 126 combat aircraft to India showcased some of the best fighter aircraft in the world as they flew over the skies at the opening of the Aero India here today.
But for the French built Rafale and the Swedish Gripen, the other four companies in the race gave a brief preview of their machines today.
Though defence analysts said "this was just an air show and no technical evaluation was done" the intent of the companies and its pilots was clear. They are here to present the planes to create a visual impact even as the IAF has announced that it will conduct its technical trials in April-May. At $11 billion this is, at present, the biggest deal for fighter aircraft anywhere in the world and is called the medium range multi-role combat aircraft deal.
Each of the pilots of the Eurofighter built by EADS, The F-16 built by US major Lockheed Martin, the F-18 hornet built by Boeing and the Russian built MiG 35 wanted to be one up the other. Apart from the Lockheed Martin's F16 all the three are twin-engined fighters. The twin engine offers more reliability and survivability especially in Indian conditions where bird hits are common and can stall an engine.
For the Russians the selling point for its machine is "With India for India". Clearly, India's oldest defence ally is playing on the emotional factor and also has promised to transfer technology for building the MiG 35 in India itself.
Other players know that India is hedging its options and has already opted to have long-range maritime reconnaissance aircraft from the US in $2.1 billion deal. The French company Dassault designed that manufactured Rafale has asserted that its product was the best next-generation option and would bag the deal "if the competition was fair" , this claim was made a few weeks ago by Jean -David Levitte.
Later in the evening, the French Defence minister, Jean Marie Bockel, clarified as to why the Rafale, manufactured by French company Dassault was not flown today when all other competing fighters were displaying their prowess. He said all the available fighters were deployed in Afghanistan.