M A I N N E W S
Recipient of President's medal for resisting marriage with a disabled man thrice her age, a 16-yr-old gets her biggest award: Acceptance
For Asu, all's well that ends well
Jupinderjit Singh
Tribune News Service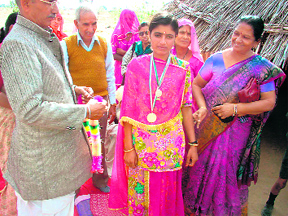 Asu Kunwar being honoured by villagers. Tribune photo: Jupinderjit Singh
Dechu (Jaisalmer), February 11
Sixteen-year-old Asu Kunwar, one of the recipients of the President's Medal for Bravery this year, got the biggest award when after an year-long social boycott, she and her family were allowed to drink water from the village well in Fatehgarh Dhani under the Dechu panchayat here.
The boycott had begun when she refused to get married to a differently-abled man, thrice her age.
"The girl took the step but had to live for many weeks in hiding. A time had come when the bridegroom and over a hundred of his supporters had settled as baraat in the village school putting pressure for the 'gona' of the bride. We eventually got the school vacated and saved the girl. She was saved only because of police intervention and security," said Indu Chopra, programme director, Child and Women Welfare Department (CWWD), Rajasthan, who helped Kunwar in her fight.
"However, Kunwar and her family lived in constant danger. Their relatives had abandoned them. The panchayat had outlawed them. She even went to New Delhi secretly. She deboarded the train at the station earlier as there were men waiting to attack her at the Jodhpur railway station," Indu revealed.
The struggle against society, including her father Bhom Singh initially, brought Kunwar the medal and praise from the President Pratibha Patil and Sonia Gandhi.
It takes a strong willpower to raise one's voice against such exploitation and Kunwar took on not only her family but also the village. And the price she had to pay for it. Kunwar and her family were made to live like outlaws and her parents had to get water through a tanker. They were not invited to social gatherings by relatives and her marriage prospects as well as that of her siblings looked bleak.
Motivated by activists of the CWWD, Rajasthan, the village panchayat finally served her water and Asu was honoured for her courage. While being honoured, she had mentioned the boycott. "What is the use of any award if my own village does not accept me, if I can't drink water from the village well?" she had said.
Immediately, thereafter, Renuka Chowdhry took details from her. Sonia Gandhi, too, wrote a letter to Rajasthan Chief Minister Ashok Gehlot expressing her concern over the issue. Gehlot put the department on the job to work out the rehabilitation of the family. But it took a week to convince the villagers to accept the new voice. Indu Chopra had to step in here also.
Kunwar has just won a major battle in her life and is set for another fight.
A visit to the outside world has made her realise her impoverished condition. There is no light in her mud house, no LPG and not even proper furniture. And when a voluntary agency offered her solar energy-fed tubelights, she had replied, "Why just for me, why not for the entire village?" The state government would have to reply to that.