Equally yours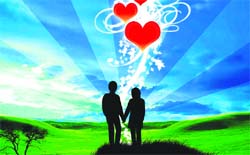 A new study shows attraction and emotional stability are high on the list when it comes to selecting a date or a mate. We ask some tricity folks what matters more: a high IQ or EQ
What do women want? has been a question haunting men forever. The University of Iowa sociologists have come up with the answer not only for men but also women.
And the award goes to...


Slumdog Millionaire actor Freida Pinto and Mickey Rourke have repeated their victories at the Elle Style Awards. While Pinto bagged the Best Actress trophy, Rourke took home the Best Actor prize for his role as Randy The Ram Robinson in The Wrestler. Meanwhile, British actress Sienna Miller was presented with the top fashion award of the evening with the Elle Style Icon prize.Other celebrities to have impressed the decision makers included rockers Kings of Leon for Best Music and Courtney Love, who picked up the Woman of the Year honour. — ANI
Go green


Bollywood actor Kareena Kapoor and cricketer Sreesanth have emerged as the winners of PETA India's annual 'Sexiest Vegetarians Alive' poll. Informing this, a People for the Ethical Treatment of Animals (PETA) communiqué yesterday said an online contest was conducted by petaDishoom, Peta India's youth arm, in which Kareena and Sreesanth narrowly edged out 2007 winner R Madhavan, model and doctor Aditi Gowitrikar and singer Kailash Kher among others.
Autobiography on screen


Amitabh Bachchan is set to play a superstar named Ashmit Bhargava in Kushan Nandy's The Actor, which incorporates many incidents from the Big B's life, making it his most autobiographical film to date. "Yes, I wrote The Actor for Mr. Bachchan, along with two writer-friends Kiran Shyam Shroff and Ghalib Asad," Kushan said.Confirming the news, Amitabh said: "Yes, I'm doing a film for Pritish Nandy (Kushan's father."
Politically correct


Shooting of Bollywood flick Rajniti, which depicts the political scenario of the country, got underway in Bhopal. The film is directed by Prakash Jha known for his hard-hitting films Gangaajal and Apaharan. Prakash Jha's film stars Katrina Kaif, Arjun Rampal, Nana Patekar and Manoj Bajpai.Speaking to the media, director Prakash Jha denied that the character of Bollywood actor Katrina Kaif resembled that of Sonia Gandhi.

No-cards Cruz
Hollywood actress Penelope Cruz has revealed that she doesn't like to celebrate Valentine's Day. The Vicky Christina Barcelona star admits, "She has never sent and never received any Valentine's Day cards. They hold no importance for her," "Valentine's Day cards means nothing to me. I have never sent one - and never had one," she said. The 34-year-old actress also revealed that she doesn't like to talk about her love life.
Bald and beautiful
Hollywood actress Halle Berry is set to go bald for new movie titled Nappily Ever After. The film is a romantic comedy for which she plans to go bald. "I'm shaving it off!" said she. "I know. Here comes the controversy, but ... it'll grow back - I hope!" she added.The Oscar winner has recently wrapped her latest movie, Frankie and Alice, and says she's is happy settling back into her favourite role of all: mom to her 11-month-old daughter Nahla.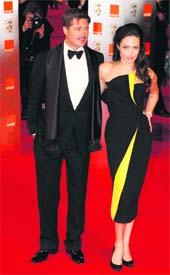 U.S. actress Angelina Jolie and actor Brad Pitt arrive for the 2009 BAFTA (British Academy of Film and Television Arts) awards ceremony at the Royal Opera House in London recently. Photo: Reuters
Big Love
As the V-day celebrations are growing bigger, teenyboppers with king-sized hearts are going in for larger-than-life gifts. For, affectation, and not affection, is the big word, says Saurabh Malik
Love is getting dearer, and bigger, for youngsters expanding their friendship horizons! The all-proposal day is still a few days away! Yet, teenyboppers across the city with colossal-hearts thumping for love pangs are already picking up larger than life trophies of affection! For their pals! To make the big-occasion a massive success! By the way, it's not love letters penned with the 'blood of thy arteries' that's catching their fancy, the way it did in Chand-Fiza's limited episode love story.
Crooning glory
What are you going to play to your sweetheart this Valentine? Nothing gonna change… or maula mere maula?
Remember your first crush? Ever wondered what happened to that 'hot chick' in front row of your class? Or, what became of that popular 'sports-vice-captain' you were madly in love with? Or, even the pretty girl in the playground when you were still a teeny-weeny little boy. Welcome to the world of love! Romance, bubbles, nostalgia, pinks, magic, passion, memories, sentiments and everything mushy rules. We go 'Valentine music shopping' and come back emotional. Sniff sniff!
Forget me not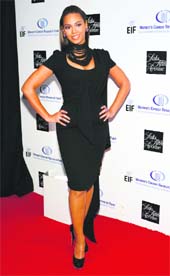 Beyonce Knowles arrives at Saks Fifth Avenue's "Unforgettable Evening" benefiting the Entertainment Industry Foundation's Women's Cancer Research Fund in Beverly Hills, California recently. Photo: Reuters
Romance is brewing
With Valentine's Day around the corner, British Coffee chain Costa Coffee is all geared up to celebrate the spirit of love.
Spice up
V-day grooming
w A 'pick-me-up' facemask can leave your skin clean and glowing. Cleanse the skin. Mix honey with egg white and apply it on the face. Wash off with water after 20 minutes. After washing off, give the skin a cold compress with cotton wool pads soaked in chilled rose water, to add a glow.
Cosy up with cushions
Want to express your love to your beloved? Then this is the time and season and what else could be a better way of expressing love than showering your partner with a gift that is beautiful, chic and exclusive. Well forget the usual flowers and chocolates this time!! But at the same time, if you are puzzled what to buy for someone special in your life, then stop worrying. Maspar, the well known Indian brand for home décor and lifestyle accessories, has the perfect answer to all your gift worries...
Bells of change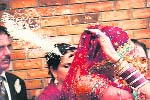 Marriage brings lots of changes for the bride and groom. It even affects the bond with people closest to them
Manpreet Dhir Handa, is the newly married bride of the Handa family. A month back she was shopping with her younger sister Meher and mummy. She was cracking jokes with her maiden family, reassuring her sister that marriage will change nothing between them. They will always be the two inseparable musketeers. While ideally flipping channels one evening, she sits up abruptly.