Industrial output dips by 2 pc in Dec
Inflation slips to 4.39%
Tribune News Service
New Delhi, February 12
Once again there is bad news for the economy as the factory output showed a further decline. However, the good news is that the inflation has come down to over a 12-month low of 4.39 per cent.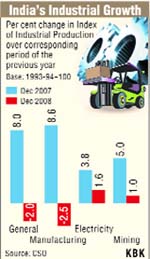 Industrial output fell 2 per cent in December from a year earlier, the second fall in three months. The manufacturing sector, which has a weight of about 80 per cent in the Index of Industrial Production (IIP), registered a negative growth of 2.5 per cent against a rise of 8.6 per cent in December 2007, according to government data.
Separate data showed annual inflation fell to 4.39 per cent at the end of January (as against 5.07 per cent a week ago), due to lower prices of fuel.
Mining output and electricity generation grew only by one per cent and 1.6 per cent, respectively, as against 5 per cent and 3.8 per cent, respectively, a year ago. The production of consumer durables and consumer non-durables as well as intermediate items declined. Consumer durables production fell as much as 12.8 per cent.
Economists say that there is a definite need for interest rate cuts and re-revision of the estimates of industrial production, released by the government a few days back.
"A substantial proportion of the current fall in inflation is due to falling fuel and commodity prices, which is lowering input costs for corporates. This would help industry become cost competitive in this situation of a slowdown," said Satish Bagrodia, president, PHDCCI.
The lowering of inflation would pave the way for further cuts in interest rates, which, in turn, would help revive industry that is presently being impacted by a severe credit crunch, Bagrodia added.
The impact of global economic meltdown has been much more on India's economy than anticipated earlier and is causing apprehension within the industry about the times to come. What is particularly worrisome is that the manufacturing sector is in the red with a contraction of 2.5 per cent in factory output, indicating that the sector is fast losing momentum on account of high interest rates, non-availability of credit and subdued demand conditions, both in the domestic and export markets.
Major segments of manufacturing sector — intermediates and consumer goods — are showing negative growth rates. This is causing concern about the medium-term growth prospects of this sector.
According to PHD Chambers, electricity generation, which has achieved a meagre growth rate of 1 per cent as compared to 5 per cent last year, is equally disheartening.
The Chambers says that, in this backdrop, it has become imperative to rejuvenate industry by contemplating bold demand-inducing measures. It advocated more public investment in infrastructure and skill development. Ensuring adequate credit availability to industry at affordable rates is a priority to boost demand and reduce production costs in industry. Rationalisation of taxes and a special incentive package for sectors worst affected by the slowdown is also necessary to stimulate demand. Reforms in agriculture are also important to invigorate rural demand.
The chamber hopes that the third stimulus package, anticipated shortly, would address the genuine concerns of industry and help to pull the sector out of crisis, Bagrodia added.
India's exports have contracted on an annual basis in three consecutive months since October, while imports have also slowed due to slowdown in economic activity.