Friday, February 13, 2009, Chandigarh, India
Updated at 3:00 am (IST)

Pak admits part-planning 26/11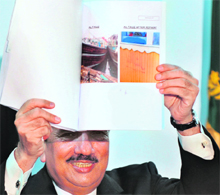 The Mumbai attacks by 10 suicide bombers were "partially" planned in Pakistan, the top interior ministry official, Rehman Malik, disclosed here on Thursday. He is also the adviser to the Prime Minister.
Rehman Malik, Pakistan's interior ministry chief, shows a picture of a boat used in the Mumbai attacks, during a press conference in Islamabad on Thursday. — AFP photo

Highlights of Rehman Malik's remarks
Positive move: India
'Coercive diplomacy, irrefutable dossier made it possible'
New Delhi, February 12
It was after a long time that one saw External Affairs Minister Pranab Mukherjee smiling tonight as he described as a "positive development" Islamabad's admission that elements in Pakistan were involved in the 26/11 terror attacks in Mumbai and said India expected Pakistan to take credible steps to dismantle the terrorist infrastructure.