M A I N N E W S
Pak admits part-planning 26/11
Afzal Khan writes from Islamabad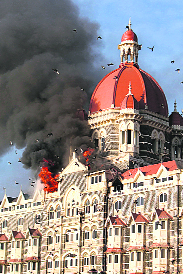 The Mumbai attacks by 10 suicide bombers were "partially" planned in Pakistan, the top interior ministry official, Rehman Malik, disclosed here on Thursday. He is also the adviser to the Prime Minister.
A case has been registered and the culprits will be tried in Pakistani courts and brought to justice, Malik told a news conference while revealing part of the findings of the investigations conducted by Pakistani authorities on the basis of information provided by India through a dossier.
"Some part of the conspiracy has taken place in Pakistan," Malik told reporters adding that militant commander Zaki-ur-Rehman Lakhvi, the alleged mastermind, was in custody along with five other suspects, while two were still at large. One of those arrested was lured back to Pakistan from the Spanish city of Barcelona, he said. As many as 179 persons were killed during the attacks by militants in Mumbai.
Malik also confirmed that Ajmal Kasab, the lone survivor among the attackers, who is in Indian police custody, belonged to Pakistan. But he insisted that Pakistani investigators had not been able to confirm the identities of the other nine gunmen killed in the attack.
The carnage brought India and Pakistan on the brink of possible war or some kind of surgical strikes as India blamed Pakistan's non-state terrorist elements and organisations of masterminding the attacks on its financial capital with suspected complicity of its intelligence agencies as well.
India has awaited Pakistani response for weeks to its dossier. India has named Pakistan's banned organisation, Laskhkar-e-Taiba, of carrying out a series of bombing attacks in Indian cities and waging a proxy war in Kashmir with the blessing of Pakistan's main spy agency, the Inter Services Intelligence (ISI). The Mumbai attackers also received training in camps run by the Lashkar, India alleged.
"We have traced the locations, which were used by the terrorists before launching themselves," Malik said, endorsing Indian version that they had sailed from Karachi to India. "Some of the accused who have been arrested, they have given us the full rundown," Malik said.
He said Investigators had also discovered that some funds transferred from Italy and Spain were used to finance the attacks, Austrian telephone SIM cards were used. Malik also spoke of a link to Houston in the United States.
He said the police complain or the first information report (FIR) had been lodged to initiate the case.
"Some part of the conspiracy has taken place in Pakistan," Malik told a news conference here.
Malik recalled that Pakistan had assured India of its full cooperation in the investigations of the Mumbai attacks and that Pakistan had been a victim of terrorism since long. The FIR has been registered with a special investigation unit in Islamabad.
"This FIR has been launched. I want to show all of you, I want to show our nation, I want to show the international community, I want to show all those who have been a victim of terrorism, that we mean business," he said.
Malik said the money was transferred from Spain to acquire a domain name, used for communication over the Internet that was registered in Houston, Texas. A Pakistani, Javed Iqbal, who was living in Barcelona was repatriated and arrested in connection with the payment, Malik said.
Another domain name used by the attackers was registered in Russia, and a satellite phone registered in a Southwest Asian country, which he declined to name.
He said the investigators needed more information to complete its probe into the November 26-29 siege. Pakistan has sought further information from India, including DNA samples of the gunmen, nine of whom were shot dead, and Ajmal Kasab, who is currently in Indian custody, and their full names.

The following are the highlights of Rehman Malik's remarks:
Some part of the conspiracy behind the strikes plotted in Pakistan
FIR lodged against nine persons, six arrested
All booked under Anti-Terrorism Act
Mastermind Zaki-ur-Rehman Lakhvi located and under investigation
Hamad Ameen Sadiq, who facilitated money transfer to the terrorists, arrested
Another Pak national Javed Iqbal, who acquired the VoIP phones for attackers in Spain, arrested
Pakistan wants Ajmal Kasab's statement made in court
Pak seeks answers from India to 30 questions, including information on finger prints and DNA samples of all the terrorists.