Home Coming
Spring a surprise with these styles. Here are the latest trends
in home couture...
Home is just not a place where you live, an abode for your basic needs of sleeping, eating and sometimes hiding. It reflects the depths of your personality and is a live example of your existence. And since home décor is now a specialized art form, to ensure that our home is just not another address, we are ready to cover any distance and dig deep into our pockets.

Radiator rules: A fireplace gets hip 'n' happening with a German radiator. Photos: Parvesh Chauhan

Rolling the stone: Waterfall
for your garden area

— Ornamental onyx
Billu and his buddy
Billu— an ordinary man's extraordinary tale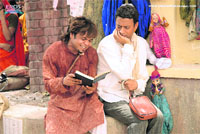 Priyadarshan's Billu is about an ordinary man's extra-ordinary life. Releasing Friday, the film has Irrfan Khan in the title role while Bollywood superstar Shah Rukh Khan makes a guest appearance in the comedy. Earlier titled Billu Barber, the film is now called Billu as it fell prey to controversies by the Hairdresser's Association of Mumbai for hurting their sentiments with its title - a week before its release. Billu is said to be a remake of the hugely successful Malayalam film Kadha Parayumbol (2007). It was remade in Tamil as Kuselan and megastar Rajnikant made a guest appearance in it.

— A still from Billu

Twist in the tale
For Irrfan Khan it's time now to take up the lead roles


One of the important changes in Mumbai film industry is that a new breed of non-glamourous stars are ruling the roost. Irrfan Khan is one of them. Though he is not a romantic hero but there are films like Life in a Metro, Chocolate, Rog, Apana Asmaan where viewers were mesmerised by his dreamy performances.
Irrfan Khan
Bon vivant
Sonam Kapoor gorged on street food while shooting for Dilli-6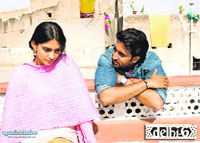 Golgappas, chhole bhature and non-vegetarian delicacies from popular eatery Karim's—star kid Sonam Kapoor gorged on all this and more while shooting for her forthcoming film Dilli-6 in the capital. "I'm quite a foodie and have a very Punjabi taste in terms of food. So when we were shooting in Delhi for the film, I used to eat a lot of golgappas, chhole bhature, dahi bhalle and meat from Karim's. Basically, I used to eat all the wrong things, but I loved that," Sonam said.
Sonam Kapoor and Abhishek Bachchan in a still from Dilli-6
Golden girl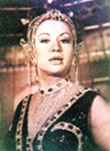 It was not all smooth sailing for cabaret queen Helen, who enchanted film buffs with her swift dance moves
I can still challenge today's item dancers as I take the credit for introducing cabaret and ballet in Indian films,'' says Helen who has now been honoured with the Padma Shri. Helen came to Mumbai, as a Second World War refugee and rose from the quagmire of poverty and had to struggle hard to eventually reach the pinnacle where she was unchallenged. Helen was forced to drop out of school and begin working. At that juncture, she had no inkling that she would someday work for the silver screen.
Helen
Tum jiyo hazarron saal
Yesteryear villain, Pran has turned 89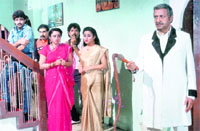 Not many cine buffs may know that Bollywood's Villain of the Millennium Pran, who turned 89 on Thursday, was actually paid more than Amitabh Bachchan for his role in Chandra Barot's 1978 production Don in which Bachchan played the male lead. Padma Bhushan Pran is actually a poetic person in real life, possessing a philanthropic nature, loves sports, is a good player himself and has his own football team by the name Dynamos Club, which he financially assisted for several years.
Pran

Love knows no limits
We need to take a liberal stand on Valentine's Day: Shahrukh
Refusing to be drawn in the debate over Valentine's Day celebrations, bollywood superstar Shahrukh Khan today called for the need to take a liberal stand on the issue."Instead of taking a literal meaning that Valentine's Day is not an Indian festival, one should understand the essence of what it conveys about spreading happiness, goodness and love," the actor said.
Shahrukh
Booked to romance
Romance can be likened to the ecstatic emotion that reflects the world through a rosy filtered glass. Books are an expression of the eternal affair combining the comfort of the spouse and charm of a mistress. Lost in translation? Let's make it simple. What if words and romance are wedded? A million love stories! The affair of books with its lovers, wedding of a poet with his words and the flirtation of emotions with expressions. Acknowledging such 'love sagas,' the British Library-9 on Thursday inaugurated Romantica, a three-day festival.
| | |
| --- | --- |
| | Neelam Man Singh with the participants |
Side Lanes
Of Valentine's past


As Valentine's Day has nudged its way into another year under the watchful and unrelenting, avuncular eye of the Shiv Sainiks, Ram Sene and saffron clad culture vultures, many ex-heart throbs come to mind. They are grey haired men today, but many cheesy moons ago they made the heart beat faster as I waited for that single red rose or a card with a scarlet heart.