Changing face of China
Poonam Surie turns her first-hand experience of China into a quest for capturing the essence of this Asian superpower in her just-released book China: A Search For Its Soul. Excerpts: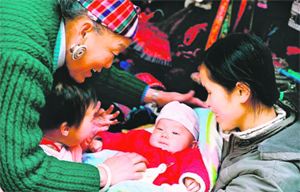 The Chinese are very fond of babies
Trade and territorial commonalities have historically linked India and China. Neighbours, separated by the Himalayas, they share not only historical links but also ancient civilizations; they have large populations, large and important rural sectors, and similarities in culture. They also have troubled pasts. India attained Independence from over two hundred years of the British rule sixty years ago. China shrugged off the shackles of a feudal system and underwent a completely different kind of transformation. The 21st century poses new challenges for these old warriors and they are now busy carving out their own niches on the world stage.
* * *
Chinese shaadi.com
I had never heard of a Chinese version of a go-between who acts as the matchmaker or a family pundit. If Shaadi.com or Bharatmatrimony.com are the search engines for marriages in India, then to my astonishment, I found a similar scenario in China. By and large, arranged marriages, or marriages of convenience seem to be the norm in China.
Parents of Gen Next in China are desperately hunting for marriage partners for their offspring. As economic development has meant many more opportunities, young people are concentrating on furthering their careers and finding it more and more difficult to take time out to socialize and date members of the opposite sex in the hope of finding suitable life partners.
There are agencies in many Chinese cities, trying to forge alliances between the suitable and in the process making a neat profit. Depending on the social status of their clients these agencies are charging exorbitant amounts ó anything between 9,900 and 699,000 RMB for each successful match. In Beijing alone, there are reportedly more than a thousand matrimonial agencies..
Anxious Chinese parents are seeking new ways of exchanging information on eligible spouses for their offspring. Take, for example, the following parks in Beijing: the Zhongshan Park, the Yuyuantan Park and the Zizhuyuan Park. Here parents congregate to exchange photographs and educational qualifications of prospective brides and bridegrooms, often clandestinely. Middle-aged men and women sit around; displaying advertisements about their children. Hundreds of anxious parents gather to fix blind dates for their working sons and daughters.
Chinese sociologists say that whereas earlier society demanded that people get married before having a physical relationship, cohabiting is now tolerated by society at large.
Social transition has meant that whereas under the planned economy single people were not entitled to government allocated housing but only to dormitories, that no longer holds true.
For those that are tying the knot, marriage ceremonies are becoming occasions to show a newfound opulence as there are fewer restrictions. Many marriage ceremonies are performed in churches, not because the couples are believers but because it is different and cool to do so. There are underwater ceremonies, bungee jumping betrothals and weddings at the Blue Zoo at Beijing s aquarium, not to mention skydiving ceremonies.
However, wedding ceremonies like other things are still fraught with superstition. Backgrounds of suitors are still painstakingly scrutinized and their wealth and prospects weighed. Astrologers still go over birth signs to check if they are compatible and sometimes resort to numerology to come up with auspicious days. Not unexpectedly, 2008, the year of the Olympics has seen a spurt in weddings. The numbers eight, eight, eight symbolize prosperity.
* * *
Bollywood beats
On my sojourns around the streets of Beijing, I came across many shops and boutiques selling Indian goods. I was invited to the inauguration of one such shop in downtown Beijing. Purple tissue dupattas from Lajpat Nagar (a busy retail market in south Delhi) were doing a good job as curtains. Posters of Shahrukh Khan, Madhuri Dixit , the Taj Mahal and Lake Palace, Udaipur adorned walls. Suddenly a shrill song from a popular Bollywood film blared forth. There was the sound of ghungroos and out came a pretty young Chinese girl in a gold and purple lehenga.
Girls like Wang (who is a student at the Beijing Dance Academy) are in great demand. They perform Bollywood pieces at inaugurations, special functions, celebrations. Bollywood songs accompanied with dance steps are becoming quite popular in Beijing.
At Chingari Restaurant, Hou Wei Qui, an ethnic Hui, performs every evening for the expatriates and local Chinese who are now adventurous enough to try acquiring a taste for Indian food. Clad in a sari she endears herself to us Indians with her amazing, flawless Hindi accent and perfect rendition of songs from popular Bollywood films. And all that without knowing a word of Hindi.
The spectacular success of Lagaan, released in 2001 all over China, was quite unique. Hum Dil De Chuke Sanam and Dil Chahta Hai were very well received, as was Choker Bali. A.R Rehmanís music in Warriors of Heaven and Earth was a most attractive fusion of Indian and Chinese music.
The screening of Kashish, a popular Hindi serial on BTV2 (Beijing TV) did wonders to showcase an Indian way of life to the Chinese. Walking down Ritan Park, I heard bhangra music being played at an outdoor restaurant and an outdoor tabla recital. Bindis and saris are very much in demand and we are amazed to see so many young girls and boys greeting us with a namaste.
* * *
A masseur in Beijing
When Zhang went home every night, he would fall asleep as soon as he hit the bed. At times he managed to get home early when it was the lean period; but sometimes he would crawl into his bed well into the next morning. As he left the corner of the street, he discovered it was already 6 in the morning. Zhang had had a particularly difficult night as a bevy of young women had arrived from Russia and the small room where he worked had become a stale smelling hellhole. It was tough being a masseur in Beijing these days as tourists poured in to get special oil massages. His speciality was massaging womenís torsos and feet and they were so pleased with his handiwork, he was told, that they came back again and again for more. Little wonder that he, at thirty-eight, had never met a woman he liked. He tried not to think what his old parents would have thought of him, but they were tucked away in the far off province of Shandong and thought their son worked in a paper mill. As he let himself into his room, a tiny cubicle the size of a handkerchief, for the umpteenth time, he wished his parents would come and look for a wife for him. If for nothing else, he needed a wife to cook and clean, wash and fold his clothes.
* * *
Vibrant women

Excerpted with permission from China: A Search For Its Soul - Leaves From A Beijing Diary by Poonam Surie. Konark Publishers. Pages 362. Rs 800

At Ritan Park, Orchid, a young, beautiful Chinese girl teaches yoga to pretty young students and professionals who aspire to be trim and svelte. The most vibrant and active people one sees in the city are the women. In shops, as saleswomen, in offices as receptionists, in hospitals as doctors and nurses, as cab and bus drivers, as cleaning women and maids...they appear to be more aggressive and successful than men. There are many interesting questions about the status of women in modern China. Whatever happened to the concubines and petite-footed women of the Ming and Qing dynasties? Interestingly, women seem to feel that they are better off as far as their status vis-`E0-vis men is concerned. Says Prof. Wei, who teaches English at Beijing University, husband cooks and cleans in our home. It has been so ever since we got married. I have no time or inclination to do housework, so he does it. Further, Prof. Wei says that her son is also a good cook and is on the lookout for a girl to get married to. However, the girls are not keen to be pinned down and would rather have relationships without the hassle of looking after a family, which would mean that they have to give up their careers. There are marriages that are falling apart as the opportunities for meeting members of the opposite sex increase. So far, tightly controlled and segregated, with extra-marital relationships severely frowned upon, men and women kept their distance, following the straight and narrow paths laid down for them. Marriages were very often alliances of convenience. Traditionally, women may have had sex only for bearing children. But now, prosperity has meant wider opportunities and a freedom which has changed the norms and rules of morality for young people.
The divorce rate in China has increased over recent years. Linked to the increasing incidence of divorce is the master of our own fate attitude, where girls are deciding what to do with their own lives. As in India, this is seen as becoming more advanced. And the needs and expectations of women are also increasing. They want money, romance, affection, sex and security. Some years ago, they were happy with the security of a house, a square meal and the basic necessities of life. On the flip side, one of the reasons for divorce can also be the fact that there is such a premium on having a male heir. Because of the one-child policy, if the only child born is a girl, the man sometimes divorces his first wife in order to marry again to attempt to have a male child.

Tandoori nights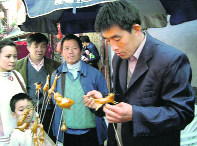 A road side eatery in Beijing
The waiter placed before the customers succulent kebabs and naans with onion rings and a red condiment that could easily pass as red chilly chutney. The mouth-watering array was soon being tucked into as morsel after delicious morsel was downed with red wine. The hall which could easily seat about fifty people was by now resounding with the din of an army of people, some voices loud and shrill in pudonghua (the Chinese term for Mandarin), as is the Chinese way, some a mixture of smatterings of Arab, European and some in Hindi. That should not have been surprising, since Indians occupied a whole row of wooden chairs. Instrumental Uighyur music played in the background. All those absorbed in the serious business of eating were somewhat precariously perched on wooden slats; the rustic wooden tables in front running the length of the row of young people. This was A-fun-ti , an Uighyur restaurant in the heart of Beijing. But it could very well have been Karims at Jama Masjid or Nizammuddin in Delhi. The same smells, the same food but only the waiters looked different with their slanting cheekbones and Mao collars. The good-humoured chatting and bantering could have been those of a Lal Chand or a Hayat Singh or a Har Prasad Yadav in a restaurant in any corner of Delhi.