Plant rules the Grammys
Drama, music and tradition marked the 51st Grammy Awards, write Gaurav & Saurabh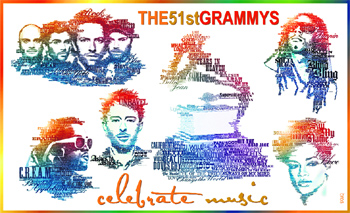 The Grammy Awards rang in its 51st show with a comprehensive, celebratory telecast that honoured the old, the new and everything in between as The Recording Academy paid tribute to its legacy as well as the exciting list of this yearís honourees and performers.
The Awards show lit up the music industry with blockbuster performances by the yearís most profound and prolific artistes. From U2ís live debut of their just-released single Get On Your Boots to the youthful Jonas Brothers pairing with legendary Stevie Wonder and a nine-month pregnant M.I.A. teaming with Jay-Z, Lil Wayne, T.I., and Kanye West for Swagga Like Us, there was no shortage of fireworks at this yearís show.
Former Led Zeppelin front man Robert Plant and his stage partner Alison Krauss dominated the Awards nite, collecting five awards, including Album of the Year for Raising Sand and Record of the Year for the track Please Read the Letter. "Iíd like to say Iím bewildered", Plant said as he accepted the Album of the Year award, along with Krauss and the albumís producer T-Bone Burnett. "In the old days, we would have called this selling out, but I think itís a good way to spend a Sunday", he said. Raising Sand won over top nominees Lil Wayneís Tha Carter III, Coldplayís Viva La Vida or Death and All His Friends, Ne-Yoís Year of the Gentleman and Radioheadís In Rainbows.
Coldplay won Song of the Year for Viva La Vida and the groupís album also won Best Rock Album. The song Viva La Vida also won the Grammy for best pop performance by a duo or group, beating out the Eaglesí Waiting in the Weeds, Gnarls Barkleyís Going On, Maroon 5ís Wonít Go Home Without You and One Republicís Apologize. With eight nominations, Lil Wayne led all artistes heading into the ceremony. Coldplay was a close second with seven. Lil Wayne took home the Best Rap Album Grammy for his album Tha Carter III. His family joined him on stage as he accepted the award. As the award show was in progress,, singer-songwriter Chris Brown was arrested in connection with a domestic violence complaint in Hancock. Brown and Rihanna both cancelled their performances at the award show, where he had two nominations and she had three ó neither won
any awards.
Double winners included Metallica, Al Green, Daft Punk, Kirk Franklin, Brad Paisley and Peter Gabriel and composer Thomas Newman, who won honours for their work on the Wall-E soundtrack. Neil Diamond, The Four Tops, Dean Martin and music mogul Clive Davis were among those honoured with special awards during the ceremony. John Mayer won the Grammy for Best Male Pop Vocal Performance for Say. "Itís always an honour to be a musician," Mayer said while accepting the award. "I love having you all as peers. I love being a songwriter. I love making music and I hope you all do too. Itís the best thing in the world."
And the winner is