Menís fashion for women
A new form of fashion is taking overóandrogynous clothing. Women are wearing masculine blazers and all-male biker jackets specially designed for men, says Pheroze Kharegat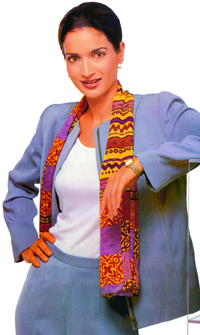 The latest fashion stylebook for women consists of conservative formal menswear.
Girls will be boys and boys will be girls when it comes to fashion, that is, they will be androgynous. The term is based on the Greek words andras, meaning man, and gyne, meaning woman, that can refer to two concepts. As a result, there is total chaos in the world of fashion. Men and women are invading each otherís wardrobes (the ladies more aggressive) and a new form of fashion is taking overóandrogynous clothing.
Catering to this new fashion trend in India are fashion maestros like designer Rohit Bal, who caused ripples in the fashion world when, recently, his male models took the ramp flaunting not just his outfits, but vermillion powder in their hair parting, to signify that the Berlin Wall between genders has fallen. "When I design, I donít think of the gender; it just happens that men are going to wear it," explains Rohit Bal. "That men are going to wear it is not pre-meditated."
So is it the shock value that makes him design such clothes? "A lot of clothes I do for men end up being worn by women. In the future it wonít make a difference. It will be more androgynous. Men will wear skirts," he asserts, and adds as an afterthought: "No, when men wear it, it just looks more interesting`85yeah," he shrugs.
As such, the trend update for style fiends this season is to switch sides. Women ditch those pretty flounces, pleats, and pick up a brand new fashion vocabulary. The wardrobe must-haves for the season include jumpsuits, overalls, masculine blazers, all-male biker jackets and scout shorts. Yes, menís fashion is inóbut for women.
It is not just clothes. Make-up is also an essential aspect of this look. Vimi Menon, senior designer of the Power Dress Group, says: "For girls androgynous make-up is all about skin, that is very matte in texture. Strong defined eyebrows are essential for this look, whereas for boys, it is about highly bronzed skin. The eyebrows, too, are perfectly groomed and shaped, giving them a sharper look".
With a quirky take on design, runways across the world and shop windows of upscale retail addresses are flaunting chic womenís wear with masculine and occasionally androgynous silhouettes (like wide-legged trousers) and funky detailing.
Another fashion designer is Rasik Malegonwala, whose stylebook for women consists of conservative formal menswear shades like khaki, beige, brown and black with a smattering of leaf green. He is also spinning a masculine style story for the sleek urban diva with loads of checks and button detailing. Malegonwala is sold on the tough look for women, and he even made female models strut the ramp at LFW in equestrian jodhpurs that were tucked into olive green hiking boots. His line also has ultra-masculine PVC jumpsuits for women with zipper and rivet detailing.
Talking about the psychology of people who opt for these clothes, Shailesh Chaturvedi, CEO, Tommy Hilfiger Apparel India, says: "These are younger, more fashion conscious people, who do not hesitate to go 'crossover shopping,' and those who do not, get sizes in their own gender's lines." "Through the inspiration behind my line is hardcore masculine clothing like jumpsuits, I try to interpret the garment in such a way that it doesnít look grungy or square. It has to flatter the feminine form," opines Rajiv Sardesai of Ladies Couture in Malabar Hill at Bombay.
Today the main articles of male fashion that have gone into female domain are:
Nehru jacket: These jackets are crafted from beautiful raw silk in vibrant colours. Wear a peacock blue or rose pink one unbuttoned over a stark polo-necked dress, or wear it buttoned as a top over a flowing skirt.
Nautical sweaters: Striped pieces are more commonly found in menís clothing than womenís. The smaller sizes fit better and menís shirts are longer. So it helps cover up a problem torso. That masculine edge? Elbow pads. Great for a girl who used to climb trees when she was younger. Paired with flat fronts and suede loafers (again from the menís sections), you are a confident girl at ease.
Belts: A strong belt over your white shirt and blue jeans shows you mean business. If you can find one in your size, you have scored that deal. It would look even better on a navy blue shirt dress or safari dress which, of course, looks like an oversized manís shirt. ó MF