A 'level playing field'
As attempts to revive hockey speed up, the need for world class turfs is on the rise, writes Sandeep Rana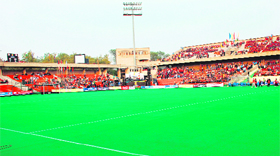 Well at times, even if out of ignorance, we tend to overlook the importance that needs to be accorded to hockey for being our national game. The present generation would rather speak about and admire the Sanias and Dhonis, than 'waste time' watching an action-packed and physically demanding game of hockey.

Astro turf, like the one in place at the hockey stadium in Chandigarh, ensures that youngsters get a chance to play on a globally-accepted surface. Tribune photo: Vicky Gharu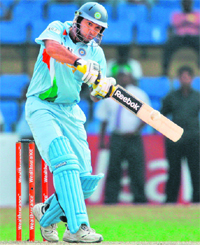 Blues on a happy note
M. S. Unnikrishnan
Mahender Singh Dhoni has given a dramatic makeover to the Indian cricket team. The old order has changed, to usher in a new dawn. The team no more look upto seniors to drop anchor. Dhoni has backed a bunch of young players to change the dynamics of Indian cricket, to make it youth-oriented. India now has players who can bat, bowl and field with speed, power and precision to apply the winning touch. And nobody is complaining as the team has been winning at home and away with consistency.
With players like Yuvraj (L) raising the bar constantly, the Indian team has found a never-before consistency and that showed in the ODI series in Sri Lanka too.

IN THE NEWS
Brothers in arms
The Pathan brothers, Yusuf and Irfan capped a brilliant Sri Lanka tour for the Indian team as they clinched a thriller T20 tie in Colombo, helping India beat Sri Laanka by three wickets. The two shared a winning partnership and also some records on the way. Yusuf Pathan (2/23) produced his career-best bowling figures. Yusuf (22 not out) also registered his best ever score, eclipsing his 15 against Pakistan at Johannesburg on September 24,2007.
Shining Sharath
Amit Khanna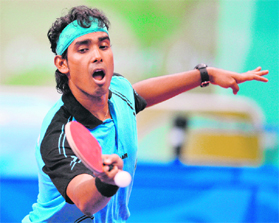 The pressure of playing for a record takes its toll on the most accomplished of mortals. But playing for a rare hat-trick of titles did not seem to bother the champion even a wee bit. May be he knows records are just numbers at the end of the day. The National Championship held in Patna witnessed Achanta Sharath Kamal restamp his authority by completing a hat-trick of titles, while in the women's section top seed Shamini Kumaresan drubbed four time National Champion Mouma Das to end the Bengal domination.
Achanta Sharath Kamal won the National Championship held in Patna and completed his hat-trick of titles

Fun 'n' sand
The 7th edition of Maruti Suzuki Desert Storm is all set to be flagged off on February 17 at Delhi. The six-day rally, which has many firsts to its credit, will be traversing approximately 2,600 km through the interiors of Rajasthan and along the Gujarat coastline before culminating at Udaipur in Rajasthan.