Kahin haan kahin naa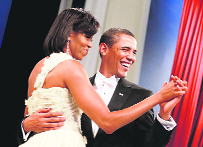 For us, no mushy talk this V-day. Just a little tickle 'n' tease. After all, in these times of recession it costs nothing to tweak some tales of love, writes Chetna Keer Banerjee. Hereís our honours list for the season...

Rab Ne Bana Di Jodi Award
If there was one man out there who made us fall in love.....with love, it was none other than that charmer in the White House, Barack Obama.

Thorns in the roses
This Valentineís is all about love, lifelong promises and lots of mush. Very usual. But its also about Sri Ram Sena (another one in the list of the so called culture bachao armies), open threats for the cupid worshippers and apprehending trouble. All those love birds are facing a wild hunt chase from the self styled moral brigades, threatening forcible disruptions in V-day celebrations.

The country capital is becoming the focus of an increasing number of films
Away from the grime and glamour of tinsel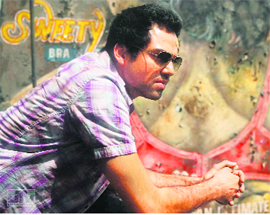 town Mumbai, the halcyon life and the middle class existence in the alleys and bylanes of Delhi is becoming the focus of an increasing number of Bollywood films.With films based on real-life issues concerning the common man and the middle-class fast becoming the order of the day in the Mumbai film industry, the Capital city of Delhi, a home to people from diverse regions, classes and castes, is the backdrop of many a film coming out of the Bollywood stable this year.

Dev D, is set in the backdrop of Delhi

Bickram Ghosh says Bollywood music is song-driven
After working with Pete Lockett, the music composer of Bond films, in his new album, top Indian percussionist Bickram Ghosh is now looking forward to a future in Hollywood. Ghoshís latest album The Kingdom of Rhythm, which is poised for release this month, features Lockett who has composed the background score for many Bond films. Comedy isnít my favourite genre: Aftab Shivdasani

Aftab Shivdasani has starred in hit comedies like Masti, Love Ke Liye Kuch Bhi Karega and Hungama, but says comedy is not his favourite genre. "Itís a misconception that comedy is my favourite genre. No, itís not. Itís just that I am most comfortable with doing comedy. Also, it is a safer genre", said Aftab who would be beginning 2009 with the comedy Aloo Chaat. His continued presence in thrillers and dramatic movies like Kasoor, Pyaasa, Footpath, Jaane Hoga Kya, Red and Speed does indicate his affinity towards the darker side of things as well. Arbaaz pins hope on The Stoneman murders
The unique concept and the realistic approach of his forthcoming film The Stoneman Murders, slated for release this week, tempted Bollywood actor Arbaaz Khan to do the movie. Set the perfect victuals for Valentineís Day with simple dishes that will leave your partner hungry for more
Mmmm food. Well, that sure spices up our oft so dull and dreary life of work and stress. Ah! Forget that, lets talk about love as we celebrate Valentine's Day. They say a way to man's heart is through his stomach and we agree completely. So on this day of love lets talk about food for love.

Mall-a-mall weekly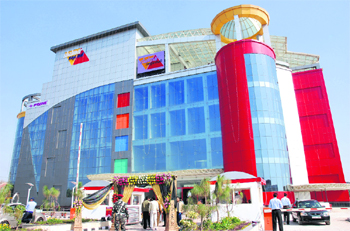 Fame, a three-screen multiplex of Fame India Limited, was inaugurated at the Shalimar Mega Mall, City Centre, Sector 5, Panchkula Lifestyle photo: S.Chandan

Bon Appetit
Sweets for my sweetheart
It's Valentine's Day and this is the moment to go over the top and convey your feelings to your dear ones! This day is not just about sweethearts and spouses; it's also a time to express love for ones parents, friends and even teachers! When I was teaching in Delhi, my young pupils would draw and colour, through the break time, while munching on their snacks.
Launch PAD
Blue seduction
Feminine, sexy, elegant and seductive: a delicate fragrance that exudes sensuality. A fresh fragrance, full of life. Devised for the independent woman who lives each new moment with intensity and likes surprises.
Heart to heart
This February, Britannia Little Hearts introduces the "Many Connections" offer. An opportunity that engages consumers to indulge in light-hearted banter and flirtatious chit-chat. Aimed at youngsters, Little Hearts acts as a catalyst in making new friends, stealing more hearts and making many connections. Each special edition Little Hearts Many Connections pack comes with a unique heart code. All you need to do is SMS as many heart codes as you can to LH<space>code at 58558. You could be amongst the many that could walk away with free talk time, but if you're really lucky you might get a chance to get cozy in a zippy new Chevrolet Spark. ó TNS
Stitches of love

Arpana, a charitable organisation that generates income for the rural women of Haryana, is holding an exhibition-cum-sale of dress material at Hotel Aroma-22. Photo: Parvesh Chauhan