Clean chit to ASP Madhur Verma
Chandigarh, February 14
ASP Madhur Verma, facing accusations of beating up a Sector 17 shopkeeper, Arvind Pandey, has been given a clean chit by SP H.S. Doon.
Kundi connection at DSPís residence
Ropar, February 14
Law-enforcers were caught stealing when the enforcement wing of the Punjab State Electricity Board (PSEB) detected a kundi connection at the residence of the DSP (headquarters) at the police lines here today.



Valentineís Day
Love your country, Art of Living tells youth
Chandigarh, February 14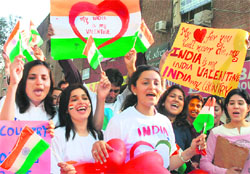 This year Valentineís Day was celebrated differently in the city. With the frequent terror attacks in the city, youngsters on the cupidís day got together for a cause and celebrated the day by declaring the country as their valentine.




Youngsters participate in an awareness campaign at the Sector-17 Plaza in Chandigarh on Saturday. A Tribune photograph
Fizaís V-Day message
Be careful in love
Mohali, February 14


On the Valentineís Day, Chand Mohammadís estranged ladylove and second wife Fiza had special message for those who are in love. "Be careful in love so that you are not cheated by your partner," she said to mediapersons at her Sector-48 residence here. The day is not merely celebrated between lovers, it is a symbol of affection and care of those whom you like. It has a wider significance, normally understood by the youth. She said she was completely shattered by the outcome of her married life. Still, she wanted to give some more time to her love.
Paramilitary forces up in arms over pay
Chandigarh, February 14
After ex-servicemen, it is now retired paramilitary personnel who are threatening public agitation over their perceived anomalies in the Sixth Pay Commission and the alleged continued apathy of the Central government over their demands.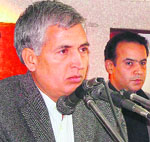 Health issue vital in adolescence: Expert
Chandigarh, February 14
A state-level workshop on adolescent reproductive sexual health (ARSH) for district programme officers, NGOs, representatives from social welfare, women and child welfare department and teachers was organised here today by the National Rural Health Mission (NRHM), Punjab. The workshop was inaugurated by Satish Chandra, secretary, health, and mission director, NRHM.
Satish Chandra
Mohali to have 10-storeyed commercial tower soon
Mohali, February 14
In a pre-election gift to city residents, Punjab Deputy Chief Minister Sukhbir Singh Badal is expected to lay the foundation stone of the ultramodern 10-storey bus terminus-cum-commercial tower in Sector 57 here.
Govt rejects Basant Mela proposal
Mohali, February 14
Mohali Municipal Councilís plan to organise a Basant Mela at the Silvi Park in Phase X here has been rejected by the government.
Residents block entry to Sector 19
Panchkula, February 14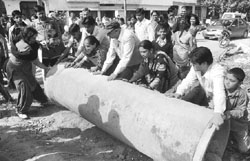 The road joining Sector 19 with Dhakoli village of Zirakpur became bone of contention among the residents from both sides, when the Sector 19 residents put the hurdles on the road, blocking the traffic coming from Punjab side, here today.



Residents of Sector 19, Panchkula, places a water pipe to block the traffic on Saturday. Tribune photo: Parvesh Chauhan
Section 144 around exam centres
Panchkula, February 14
In order to check the copying during examinations of the second semester of middle and senior secondary classes to be conducted by the board of schoool education, Bhiwani, between February 16 and March 10, District Magistrate Rajender Kataria has imposed the restrictions on free movements of the persons around the radius of 200 metres of the examination centres in the district.
Prices rise as quantity falls
Companies fleece consumers, upset household budget
Mohali, February 14
With the prices of daily need items shooting up and the companies resorting to new tactics to befool the consumers, the monthly budget of housewives is going for a toss.
Unaccounted income of 3 cr surrendered
Chandigarh, February 14
The survey conducted by the Income Tax department on the city-based manufacturer of compact fluorescent lamp and high-density lamp - Astra Lightning Ltd, Sector 20, has unearthed unaccounted income to the tune of Rs 3 crore. Teams of IT officials, led by Ajay Sharma, Additional Commissioner, Income Tax, Range III, carried out simultaneous surveys on the business premises of leading groups of the company. These included factory at Ballowal, Lalru, Katha and Baddi.
Katha Manchan-2009
Philosophical themes dominate Day 4
Chandigarh, February 14
Philosophical and psychological themes dominated the dramatic presentations even on the fourth day of the ongoing Katha Manchan-2009 at the Randhawa auditorium here.


PU Rose Fest
Dev Samaj College wins rangoli contest
Chandigarh, February 14
On the second day of the Rose Festival at Panjab University, various competitions were organised for the students.
Kashish crowned Miss Blue Bird
Chandigarh, February 14
Students of Blue Bird High School today organised a farewell party for the outgoing Class X students. Various cultural items were presented by the students on the occasion. Kashish and Aman were crowned Miss and Mr Blue Bird, respectively.
City rose fest from Feb 20
Chandigarh, February 14
The city administration will organise Chandigarh Rose Festival-09 from February 20 to 22.
Seminar on entrepreneurship sensitisation
Chandigarh, February 14
Aryans Business School today organised a seminar on the topic ďEntrepreneurship sensitisation dayĒ at Confederation of Indian Industry (CII), Sector 3, here, yesterday.