SHORT TAKES
Men of the millennium
Randeep Wadehra
1000 Years, 1000 People
by Agnes Hooper Gottlieb, Henry Gottlieb, Barbara Bowers and Brent Bowers.
Flywell Publications & Mosaic Books.
Pages: xx+331. Price not mentioned.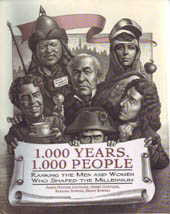 WHAT is common among Babur, Akbar, Mahatma Gandhi, Ramanuja, Nehru, Indira Gandhi, Ram Singh (of the Kuka Rebellion fame), Shah Jahan, M.A Jinnah, Mother Teresa, Macaulay, Miyan Tansen, Clive, Tagore, Sri Ramana Maharishi and Srinivasa Ramanujam? These are 13 Indians plus three others related to India who figure among the top 1,000 men and women whose actions have had a significant impact on the evolution of human civilisation during the last millennium. If Babur founded the Mughal Empire in India, then Akbar turned it into an enlightened entity. Similarly, Clive laid the foundation of the British Raj and Macaulay provided it with an enduring penal code. Ramanuja reinvigorated Hinduism by transforming it from a set of rituals aimed at liberating practitioners from the cycle of birth and death into a devotional faith. From a huge corpus of ragas Tansen selected four hundred and gave formal shape to them. Then there is the mathematician genius Srinivasa Ramanujan whose theorems had bemused the finest brains of his time. His ideas were so advanced that the world has been discovering their value gradually.
This is a valuable reference book for kids and adults alike.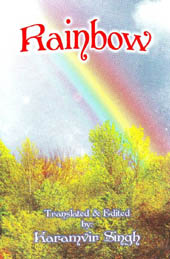 Rainbow
Translated and edited by Karamvir Singh.
Pages 80. Rs 150.
Karamvir Singh tells us that the genre of mini stories in Punjabi came into being in 1972. It had to overcome opposition and criticism from purists before being recognised as a serious literary form. Today it has become quite popular because of its pithy narrative, one-stroke characterisation and often-enigmatic endings, not to mention the crisp prose. In this volume there are some excellent stories like the eight lines long Border wherein a Pakistani farmer, entranced by the rendering of Heer on the Indian side, crosses the border and gets arrested. Similarly, Man takes a sardonic look at the craze for male child. Arcuated Knife depicts how communalism has affected our psyche. Optimist highlights a chronic loser's positive attitude in a touching manner. Prize satirises the police mindset.
It is really amazing how much can be conveyed in a few well-chosen words. The selection of stories is excellent, but the quality of translation is uneven.
Hindu Nationalism
Eds Shyam Khosla & BK Kuthalia.
Shree Natraj Prakashan.
Pages 214. Rs 495.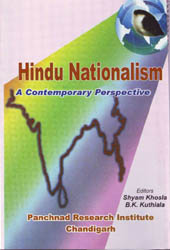 Savarkar gave currency to the term Hindutva and today it has become an ideology that seriously challenges India's secular ethos, even though the proponents of Hindu rashtra claim to be genuinely secular while condemning the INC and leftist parties as pseudo-secularists. In this collection of 15 essays different aspects of Hindutva have been examined. Dr Murli Manohar Joshi advocates the revival of sanskriti as the basis for Indian society. Justice Rama Jois presents eighteen principles of Dharma (way of life) while Francos Gautier visualizes India as 21st century's superpower. Other issues like terrorism, future of the Hindutva and communalism too have been discussed. For example Trayambaklal U. Mehta asserts on page 105, "`85tolerance and understanding are the essential elements of real Hinduism and a chauvinistic as well as aggressive projection of our creed, tradition or religion, however noble and altruistic they may be, have no place in true Hinduism". Well said, but this does not gel with what has happened in Mangalore recently where women were molested in the name of preserving our hoary traditions. Hinduism is being Talibanised by the lumpen. Hope Messrs Khosla and Kuthalia would come up with an introspective tome next time around.