Polished act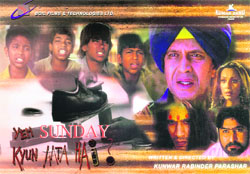 After playing assistant director to Mahesh Bhatt, city guy Rabinder Prasher has donned the director's hat himself for a film on Mumbai's shoe polish boys


This Chandigarh boy's story is that of Sangharsh, literally. From the campuses of Govt Senior Secondary School-19 and Khalsa College-26 to the studios of Bollywood, Rabinder Prasher has worked hard to make it to his dream destination.
Rabinder Prasher
Funjabi Beats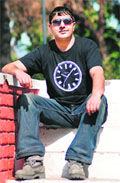 Mixing Punjabi beats with hip-hop, Panjabi MC in city to release his album Indian Timing
Who comes to your mind when we say Punjabi hip-hop? The god of dance floor anthems, master of fusion? If all this is a little too twisted for you, then let us help. Remember the smash hit Mundian To Bach ke that almost became a craze or the very desi Dhol Jageero da? Of course we do and now we know the man, Panjabi MC, the one credited with starting a music industry of his own- the Punjabi remix. The man, who led the way in associating global artists with the Punjabi music industry, is out with his second offering, Indian Timing.
Panjabi MC

TIMEPASS
Picks & piques
Pink prêt


Bollywood actor Aishwarya Rai Bachchan received a rousing reception by fans and the global media at the ongoing 49th Berlin International Film Festival 'Berlinale' here, where her latest Hollywood flick Pink Panther 2 was screened.Clad in a long pink dress, the Indian beauty was cheered by hundreds of film enthusiasts yesterday as she arrived at the Berlinale Palast, the main festival venue, for the screening of the film, in which she plays a supporting role and walked along the red carpet.

Aishwarya gets rousing reception at Berlin Film Fest
A barber cue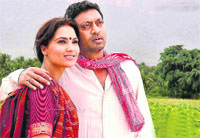 Priyan's penchant for remakes is nationally recognised. So, not surprisingly, the prolific director's latest outing, Billu (minus barber), draws heavy inspiration from Malyalam smash hit Katha Parayumbol and Rajnikanth starrer Kulesa. Billu (Irrfan Khan), a hajam in nondescript hamlet Budbuda, is coping with a cashless existence as his business is going downhill.


Priyadarshan's Billu stars Shah Rukh Khan, Irrfan Khan, Lara Dutta
In a man's mind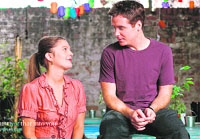 Man's love is a part of his life; it is woman's whole existence, they say. He's Just Not That Into You brings forth this maxim and many more, helping women understand what men mean. Another chick flick dished out by Sex and the City writers Greg Behrendt and Liz Tuccillo, He's Just.. has a set of as many as nine characters who are trying to work their way in the relationships from 'first dates' to 'living in' to 'planning a baby'.

Ken Kwapis's He's Just Not That Into You has Jennifer Aniston, Ben Affleck and Drew Berrymore

Kodak moment
Before the Golden Globe, US media didn't want my solo pictures: Rahman
He has been in the international music circuit for quite a while, but it is only with his Golden Globe award for his score in Slumdog Millionaire that Indian music maestro A.R. Rahman was catapulted into the big league in the West.
A R Rahman
Varsity on Valentine's
Though cupid failed to strike on campus, students were kept busy with the ongoing Rose festival and SAUFEST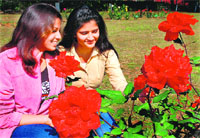 Sorry for being bare and blunt, but there's something inextricably intertwined about campus and Valentine's. Those not in the pink of youth need not be competitive, envious. For on Saturday the state of affairs was as humdrum, unexciting as the situation 'mid life crisis'. If not moral policing, then the presence of our very own men in khaki was enough to scare away even the genuine worshippers of Saint Valentine's. Security's flipside!


| | | | |
| --- | --- | --- | --- |
| | | | Women an Epitome of Nature, a mobile painting exhibition by Guneeta Chadha, was flagged off from Chandigarh Museum-10 on Saturday Photo: S. Chandan |
Matka chowk
Soulless in City


Chandigarh seems to be on steroids. Everything is getting 'more and better.' More restaurants, more hotels, more shopping malls and of course, more people. The success story of this city-is a prototype of urban Indian growth. I admit to being a reader of the TOI Speaking Tree. When the day seems to be whizzing by so fast that I feel dizzy, some of the things in the column seem to hold sway over my usually overwhelmed mind.
| | |
| --- | --- |
| Roadside Romeos | Cheers to comradeship |
| Youngsters zip across the geri route as they have fun on wheels on V-Day Lifestyle photo: S.Chandan | The mood at the CESA NITE 09 was upbeat as the Carmel Ex-Student Association members got together for their annual dinner and dance at SCORE-8 on Friday. The nite saw the ladies with their men, swaying to DJ beats and bantering with old-time pals. Lifestyle photo: S.Chandan |