No big announcements but FM plays 'hand' card
New Delhi, February 16
Although an economic slowdown and the Constitutional constraints of presenting an Interim Budget prevented Finance Minister Pranab Mukherjee from making any big-ticket announcements, he did manage to canvass support for the Congress in his speech on the basis of the UPA government's continuing commitment to the "aam aadmi" and its deft handling of the fallout of the global meltdown.

Pranab does it all


Budget in morning, diplomacy in afternoon
New Delhi, February 16
Veteran Congress politician Pranab Mukherjee is the archetypal multi-tasker and role-player. In the morning, he presents the Interim Budget, does a spot of number- crunching and tom-toms myriad achievements of the poll-bound UPA government.

RTI has infused more accountability: Pranab
New Delhi, February 16
Presenting the Interim Budget 2009-2010 here Minister for External Affairs holding charge of the Finance Ministry Pranab Mukherjee said the Right to Information (RTI) Act 2005 had made public servants more accountable than before.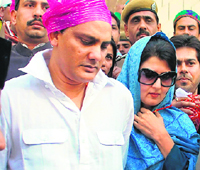 Former cricketer Mohammad Azharuddin with his wife Sangeeta Bijlani at the dargah of Hazrat Khwaja Moinuddin Chishti in Ajmer on Monday. — PTI photo
Oppn: Budget like Satyam's
balance sheet
New Delhi, February 16
Opposition parties today said the Interim Budget was like "Satyam's balance sheet" as it hid the real fiscal deficit while painting a rosy picture of the economy and offered "poll lollipops" with the upcoming Lok Sabha elections in mind without tackling real issues.
Jugglery of figures: Maya
Lucknow, February 16
Chief Minister Mayawati today described the Interim budget 2009-10 as a jugglery of figures meant to fool the common people.
B'desh-based ultras under pressure
118 Tripura militants surrender
Guwahati, February 16
In the wake of surrender by 118 tribal militants coming out of their Bangladesh base, the Tripura police today said it would be a major boost to the morale of the forces that had been hot on the trail of militants in the state.
'Nagaland CM Rio bribed MLAs to quit'
2 Cong legislators had joined ruling DAN
Guwahati, February 16
The Nagaland Pradesh Congress Committee (NPCC) has accused the ruling Democratic Alliance of Nagaland (DAN) of bribing two MLAs who resigned from the Assembly to joint Nagaland People's Front (NPF), the main constituent of the DAN.
Assembly Polls
Cong, BJP, CPM join hands in Sikkim
Gangtok, February 16
Setting aside ideological differences, the Congress, BJP and the CPM have joined hands in Sikkim to unitedly fight Chief Minister Pawan Kumar Chamling's Sikkim Democratic Front (SDF) in the assembly polls scheduled to be held later this year.
Rane may find place in M'rashtra cabinet
Mumbai, February 16
Maharashtra's Chief Minister Ashok Chavan has scored a few points over his predecessor Vilasrao Deshmukh with the Congress party leadership revoking the suspension of dissident Narayan Rane.
No SC relief to eunuchs
New Delhi, February 16
The Supreme Court today refused to entertain a petition by eunuchs seeking direction to the Centre to constitute a National Commission for Kinnars for the rehabilitation of the "most neglected" segment of society.
Vajpayee's condition improves
New Delhi, February 16
The condition of former Prime Minister Atal Bihari Vajpayee, who is undergoing treatment at AIIMS, is improving with his pneumonic infection under control, a senior doctor said today.
Top Maoist leader surrenders in AP
Hyderabad, February 16
In a major jolt to an already waning Naxalite movement in Andhra Pradesh, a top Maoist leader Sambasivudu, who carried a reward of Rs 10 lakh on his head, surrendered before the police here.
India to help if LTTE agrees to lay down arms: PC
Chennai, February 16
It would be possible for the Indian government to arrange negotiations between the Sri Lankan government and LTTE, if the latter `declared its willingness to lay down arms', Union Home Minister P Chidambaram has said.
LS polls: Cong seeks PMK support in TN
Chennai, February 16
Fearing a debacle in the forthcoming Lok Sabha elections following allegations against the Centre that it had provided military support to the Sri Lankan government in its war against the LTTE, the Congress today sought the support of the PMK, which has openly declared its support to Tigers.
12 security men hurt in landmine blast
Paralakhemundi (Orissa), February 16
About a dozen Special Operation Group (SOG) personnel were injured when a landmine planted by maoists blasted their vehicle in Orissa's Gajapati district today, the police said.
BSP MLA Murder Case
Prime accused held after 5 yrs
Allahabad, February 16
Five years after the murder of BSP MLA Raju Pal, the police has arrested one of the key accused in the case and recovered the weapon allegedly used in the killing.
RSS: Promote Indian languages
Pune, February 16
RSS chief KS Sudarshan has lamented the continued domination of English in free India and asked parents to insist on children's education in mother tongue while promoting Hindi as a link language.
300 taken ill due to food poisoning
Jamnagar, February 16
More than 300 persons have been hospitalised in the Jamkhambalia area in the district with symptoms of food poisoning.