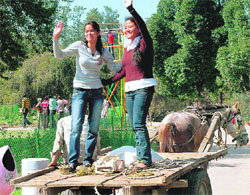 Girls enjoy the ride on a cart ahead of the Rose Festival at Rose Garden in Chandigarh on Wednesday. Tribune photo: Manoj Mahajan
Baba dismissed from MC
Chandigarh, February 18
More trouble spills for Baba Sarup Singh of Santsar Gurdwara in Sector 38-West as the Municipal Corporation today dismissed the baba, who was the tubewell operator.
Assembly official booked for embezzling Rs 4 lakh
Chandigarh, February 18
The Chandigarh police has booked Anil Vij, a research officer, Punjab Legislative Assembly, on charges of embezzling over Rs 4 lakh out of Rs 10 lakh sanctioned for a study tour to Pakistan in 2005. Anil Vij, who had been placed under suspension by the department concerned, was yet to be arrested, said the police.
Man clobbers wife to death, surrenders


Was denied money for alcohol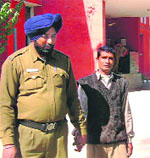 Chandigarh, February 18
Infuriated over being refused money for liquor, Sunil Kumar, a resident of Indira Colony in Mani Majra, allegedly bludgeoned his wife to death at his residence late last night. After committing the crime, Sunil (32) reportedly surrendered before the police claiming that his wife had illicit relations with someone.
Sunil Kumar in the police custody and (inset) his wife Kiran




J&K Army units in RTI ambit, rules CIC
Chandigarh, February 18
While ruling that Army establishments located in Jammu and Kashmir come under the purview of the Right to Information Act for the purpose of disseminating information, the Central Information Commission (CIC) has also held that court of inquiry (COI) proceedings were not excluded under the Act.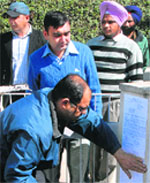 Petrol station owner's property attached
Chandigarh, February 18
Income tax officials today attached the property of Gurdayal Singh and Sons, which runs a petrol station in Sector 22, to recover tax arrears to the tune of Rs 12 lakh. According to sources, four partners, Gurdayal Singh, Darshan Singh, Shamsher and Surinder Pal, own the petrol pump. IT officials swooped on their house at Sector 34 and sealed it.


Income Tax depertment officials paste a notice on a wall of the house of Gurdial Singh after attaching it in Chandigarh on Wednesday. A Tribune photograph
Chandigarh-Baddi rail link
Rlys to conduct survey again
Chandigarh, February 18
Engaged in a tug-of-the-war with the administration over its ambitious Chandigarh-Baddi rail link in its current form, the Railways has finally relented and decided to conduct the survey again.
Chandigarh-Ludhiana rail link in 2 years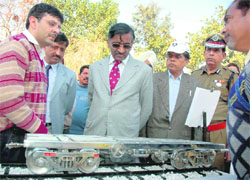 Chandigarh, February 18
The Chandigarh-Ludhiana rail link, off-track for years primarily on account of land acquisition problems being faced by the Punjab government, may see the light of the day in the next two years with the Railways depositing the full land cost (with the government).


Northern Railways general manager Vivek Sahay (centre) at an exhibition in Chandigarh on Wednesday. Tribune photo:Manoj Mahajan
2 locals selected for UNAIDS project
Chandigarh, February 18
Religion and faith have an unparalleled impact on the minds of the masses. Using this understanding, the UNAIDS along with World Alliance for Youth Empowerment (WAYE), an international youth NGO, has launched a project to spread awareness on HIV/AIDS with the help of religious leaders in all states.
Implement 5th pay commission, says ex-MP
Chandigarh, February 18
Satya Pal Jain, ex-MP and BJP candidate from Chandigarh Parliamentary constituency, has urged Punjab CM Parkash Singh Badal to grant an approval and to notify the recommendation of the Pay Commission in Punjab, without any further delay. In a letter to Badal, Jain said the employees of Punjab and UT were anxiously waiting for the acceptance of these recommendations before coming into force of "the code of conduct" for avoiding any further delay.
Govt forcibly acquiring farmers' land: MLA
Mohali, February 18
Condemning the Punjab Government for reducing the rate at which land is being acquired for Mohali's development, Kharar MLA Balbir Singh Sidhu said here today that the government was forcibly taking away the land and harming farmers' interests.
Farmers' body to honour basmati developers
Chandigarh, February 18
The Young Farmers Association today announced it would honour scientists responsible for developing new basmati varieties, particularly the 'Pusa 1121', which had increased the earnings of farmers considerably in the region.
Morcha holds meeting with sarpanches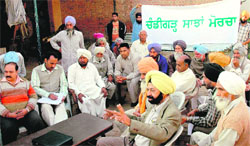 Chandigarh, February 18
Riding high on the dictatorial attitude of the Chandigarh administration towards the farmers, the Chandigarh Sanjha Morcha held a meeting of all village sarpanches and former sarpanches at Sarangpur, here, yesterday.

Brig Kahlon, president, Chandigarh Sanjha Morcha, addresses sarpanches and former sarpanches at a meeting held at Sarangpur village, Chandigarh, on Tuesday. A Tribune photograph.
Commercial activity in private garb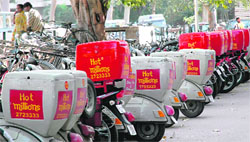 Chandigarh, February 18
Carrying out commercial activities on a private vehicle is an offence under the law but throwing rules to the wind several food joints in the city are ferrying food by carrying out modifications and thereby flouting the Motor Vehicle Act with impunity.
"Modified" scooters and motorbikes parked outside a food joint in Sector 17, Chandigarh. Tribune photo: Manoj Mahajan
Rare spinal disc surgery
Mohali, February 18
The local civil hospital carried out a spinal disc surgery and removed a herniated disc for the first time through a small incision at a nominal cost as compared to private hospitals.
Draw of lots for Sec 76-80 plots
Mohali, February 18
The Greater Mohali Area Development Authority held a draw of lots for the allotment of 427 plot numbers falling in sectors 76-80 here today.
Classical soiree enchants audience
Chandigarh, February 18
The delectable strains of music melodies reverberated the Taj hotel hall, as the city audience was treated to a fusion music concert with the harmony of western, classical and sublime of Indian classical music coming to a perfect jugalbandi here today.
PGI staff to go on strike from Feb 23
Chandigarh, February 18
Patients visiting the Post-Graduate Institute of Medical Education and Research (PGIMER) for treatment may have tough times ahead as the non-medical employees of the institute have decided to go on an indefinite strike from February 23.
RBI staff hold protest
Chandigarh, February 18
Reserve Bank of India employees and retirees held a demonstration against the decision to withdraw hike in pension at the local head office here today.
Defence canteen staff go on hunger strike
Chandigarh, February 18
Members of the All-India Defence Civilian Canteen Union have proceeded on a hunger strike in support of their demands, including implementation of basic scales as recommended by the Sixth Pay Commission.
Letters
Amend laws


Schools fail to adopt library culture
Chandigarh, February 18
The UT education department seems to be far off from adopting the directives of the National Knowledge Commission with its prime clause of brooding library culture in schools and colleges.
From Schools & Colleges
St Kabir holds biodiversity quiz
Chandigarh, February 18
The students of St Kabir Public School, Sector 26, conducted a biodiversity quiz for classes IV, V and VI. The department of environment, Chandigarh Administration, supported this quiz. The four teams were named Falcons, Hawks, Koalas and Pandas. The Hawks comprising of Hitakshi, Uday, Marriya and Arjit were declared the winners.
From PU
World Punjabi Conference on Feb 24, 25
Chandigarh, February 18
Panjab University is holding the second World Punjabi Conference on February 24 and 25 for the development of Punjabi language, literature and culture.
Water samples from schools fail test
Mohali, February 18
The Punjab Government, which is making tall claims of making Mohali as one of the best developed cities in the country, has even failed to provide clean drinking water in government schools, exposing students to waterborne diseases.